Adventurous Jupiter in Aries is ready for a new quest and ready to pioneer something new. Networking and socializing are extremely fruitful this week. You can form strong connections with a wide array of powerful allies, both old and new.
The week begins with a strong and powerful trine between Pluto and charming Venus conjunct Mercury in the down-to-earth signs of Capricorn and Virgo, making this a great period for winning friends and influencing people. The energy is strengthened by a Grand Trine in the flowing air signs between the Moon (Libra), Saturn (Aquarius), and Mars (Gemini). Monday is an excellent day to seek collaborations and partnerships.

An opposition to the Sun and Jupiter, however, could cause entitled people to run roughshod over the kind souls who are willing to lend a helping hand. It's okay to ask for help or make a pitch, but always in
moderation. Be sure to respect people's time and boundaries.
Mercury is still retrograde in Virgo until October 2nd, and is aligned with Venus. This combination wants to get organized and create a beautiful body or home. Yet spiritual Neptune in psychic Pisces wants to go into the cave to pull back from the world, letting all those little practical projects go for another day.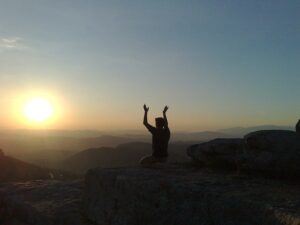 The sacred Sabain Symbol for this new moon is "The dawn of a new day reveals everything has changed. " Invest some introspective time in looking at what your new day is going to be, as it works best if you see it in your mind's eye before going out to create it in the material world. The air and earth elements are strongest, and are a good combination to bring your ideas into form.
The new moon energies carry into Tuesday morning. Monday evening into Tuesday morning help you to communicate at a deeper level, if you are willing to go there.
Put physical effort into long-term goals on Tuesday afternoon into Wednesday morning as ambitious Mars is in harmony with Saturn, and that produces future rewards. Wednesday is another powerful day, when a trine between Saturn and Mars favor hard work, new ideas, and getting things accomplished.
By the time you wake up on Thursday morning, Venus will have moved into one of her favorite signs, Libra, until October 23rd. This supports increasing grace and beauty in your life. Relationship needs and desires rise to the surface. A Lunar T-square with Uranus and Saturn however, makes it clear that not everyone is doing their fair share of the work involved.

A helpful kind energy comes in on Friday with the Moon trining Jupiter while sextiling the Sun and Venus.
As October opens on Saturday the blinders are off and people will begin to realize they've been taken advantage of.
This leads to abrupt distancing and cutting of ties, thanks to the opposition of Venus with Jupiter as well as a challenging Grand Cross between the Moon, Mercury, Mars, and Neptune.
Sunday has feelings of lingering bitterness, defined by a lunar T- square with the Sun, Venus and Jupiter along with Mercury going stationary direct. Try not to choke on your morning coffee, and work on freeing up these negative energies.
In October, Mercury ends his retrograde cycle in purifying Virgo early on Sunday, Oct. 2nd. The Saturn square Uranus combination energy that was so strong during Covid-19 comes back for one final pass before moving away from each other. It could bring another variant or something else entirely. This energy represents the challenge of stability vs freedom, security vs independence. Get ready for Mars to turn retrograde in Gemini on October 30th, and remains that way until January 12th. It's time to rethink your ambition and actions for 2023.