On Monday, Sept. 21st, the Moon moves into party animal Sagittarius, a great time to communicate expansion, big ideas, and higher philosophy.
The Sun moves into Libra at the Fall Equinox on Tuesday September 22nd. A chart cast for the next three months has the Moon in Sagittarius, which adds to the restless feeling with everything going on and after being stuck inside during the virus. At the same time, ambitious Mars continues to be retrograde until November 13th urging you to work on completing existing projects and starting to lay the groundwork for 2021 projects. This change of direction provides renewed strength and patience when doing your work and facing your responsibilities and challenges.
The Scales of Libra put emphasis on balance and the Fall Equinox is one of the two days of the year when there is an equal balance of Light and darkness. (The other being March 21st, the Spring Equinox.) This also can bring confusing energies because your emotions want to go full speed ahead; by connecting with old friends and meeting new people, you're fully ready for a new adventure. However, Mars moving backwards is advises you to be patient and not overdo any activity. It will be interesting to see how this plays out in the sports world, given that Mars and Aries are associated with athletics.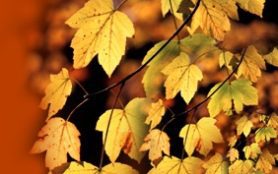 As the leaves fall off the trees in preparation for winter, take a minute to pause and tune in to look at how you are dealing with anything that is declining in your life. Personally, work to get your own exercise program moving even if you cannot get it up to full speed just now. Let it be okay if the energy is unsteady because Mars is making an ongoing challenge to planets in slow-but-sure Capricorn right into January 2021. You can make progress; just don't get overly ambitious right now. Slow and steady is supported, so work on future projects and goals while allowing room for those plans to adjust as the world changes.
The month when the Sun is in Libra is a time to connect with others, bask in the beauty of the fall landscape, and be your most charming self. While Libra is conservative and objective, it brings a special interest in making things just and fair. The world is definitely going to change starting at the Winter Solstice when heavy Capricorn begins to let go into airy Aquarius. There are an abundance of planets in action signs Aries, Libra, and Capricorn, so time will move along quickly and you will have plenty to do.
Mental Mercury is active on Wednesday and Thursday. Practice patience in your communications. Don't force your ideas on others or let them do the same to you, and use extra care in traffic or in any crowded areas under this impatient influence.
Friday brings constant lunar relationships to other planets during the day. Get on the merry-go-round and expect a quick-paced day. The Moon goes into its introspective void-of-course phase Friday, suggesting a quiet Friday evening.
This gives way to a social and friendly Aquarius Moon on Saturday.
Mercury exits Libra and moves into Scorpio on Sunday, where it remains, except for one brief visit back to Libra, until December. Mercury in Scorpio echoes the intense Mercury=Pluto square of last week and deepens the emotional need to communicate, but the way you express yourself could be a bit sharp, anxious as well as edgy and sarcastic. This helps you communicate on deep, emotional levels as well as to do some intense research projects. Be aware that Mercury will be turning retrograde in Scorpio and Libra on October 13th so there is a mental shift, confusion and slow down ahead.
The next few  months is not a time when you will feel like compromising, because there is a compulsion in the air to say whatever you feel without regard of consequences. As the USA Presidential Election approaches, truth is everything, and being right can become  more important than being happy.
In the face of violence and hostility, proceed with Courage, practice Caution and Alertness, and Pray for Grace.