OGIM   (Oh God, it's Monday!) A square, an opposition, and a trine occur all on the same day, bringing a mixed bag of frustrations. Monday early morning holds a connection to help you have a lucky feeling, with an optimistic Sagittarius Moon adding to the good feeling.
The final Mars-Jupiter square of the year on the 19th brings luck, strength, and courage to get things going, along with some big problems if you don't remember to bite off more than you can chew.  In the afternoon, the second Mercury-Uranus opposition of the year kindles up your mental process. This all brings stress and nervous tension to the mix along with big surprises and unexpected events.

Love and finances are at an all time high this week with three positive Venus trines coming your way. The second and final Jupiter-Venus trine makes Monday, October 19thyour personal lucky-charm day for love, money or both.
On Wednesday, Venus is in harmony with powerful Pluto and can bring Karmic relationships and obsessive fascinations, along with the skill to turn a big profit. Use this energy to share deeper emotions with others and to use your power in a softer way A Capricorn moon on Wednesday and Thursday helps you accomplish practical tasks.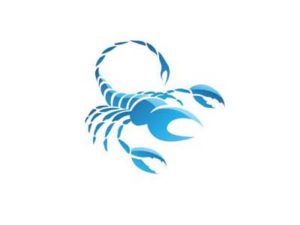 Thursday, October 22nd the Sun exits Libra and moves into the deep passion of Scorpio, the most feared, misunderstood, and mysterious sign of the zodiac. It rules sex, death, and transformation, all the tributes of Halloween. The scorpion is a small animal that is feared because of its powerful sting of energy. This energy works with the unknown, and loves to stir the pot as well as open doors that say "do not enter." 
While the Sun is passing through this sign for the next four weeks, you will feel your emotions on a much deeper level. If you repress or try to hide these feelings, they can turn into passive-aggressive behavior or obsessions that can come back to haunt you.

The Moon moves into friendly Aquarius on Friday and Saturday. Do something out of your normal routine. Saturday morning has Venus making a harmonious trine to Saturn. This favors making commitments and long-term investments. This is a good business combination, and it is also good for diplomatically communicating boundaries.
The Sun aligns with Mercury on Sunday, indicating the halfway point of the Mercury retrograde cycle that started on the 13th. It's time to start behind the scenes planning for the near future; along with the possibly of some holiday travel.

Scorpio energy is remarkable because it can reach for the highest of heights (like becoming President of the United States for example) or touch the lowest and darkest of lows (like riots and destruction) without fear.
©2019 Visions of Reality
                           All Rights Reserved