Yesterday,-  Mars began his less common retrograde cycle in Gemini – October 30th until January 12th. These three months are a good time to explore new ideas and areas to put your focus and ambition.
Don't believe everything you hear now because Gemini likes to explore numerous possibilities before choosing a select few.

The Moon moves into friendly Aquarius on Monday, Halloween.  The Moon's – conjunct to Pluto while squaring trick or treat Mercury, is out to wreak some havoc. A lunar sextile with Jupiter, backed into Pisces, helps us joyously share some goodies with anyone who passes by.
A sugar hangover could be in store on Tuesday, All Saint's Day, due to a sequence of challenging lunar aspects, including squares of the Sun, Venus, and Uranus, before it finally conjuncts Saturn. This could be a grumpy day, and our need for strength and security could lead us to harm a friend with our words. Take a deep breath and find a strengthening affirmation first, before you allow hurtful words to leave your mouth.
A smile and upbeat energy returns on Wednesday and Thursday, with lunar trines of Mars, Mercury, Venus, and the Sun bringing vibes of inspiration, action, cooperation, and, more important, understanding.
The Universe goes back to its old tricks again on Friday when the Moon conjuncts Neptune and Jupiter in Pisces while squaring action Mars. This brings in chaos and confusion at the end of the workweek, as we begin to feel the energies of the Lunar Eclipse next Tuesday.
A temperamental and arguing energy is in store for the weekend, due to an opposition of Uranus and Venus along with a square with the Moon (Aries) and Pluto, (Capricorn). People will be full of emotions in their political bid for power.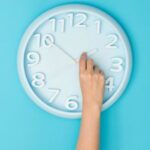 Saturday night/Sunday morning we turn back the clocks – to end daylight savings time. This always throws off our balance and can lead to crankiness for a few days, as our bodies adjust to the changes. Turn in early Saturday night to avoid the drama.
The upcoming eclipse is heralded a few days earlier by passionate energies; the difference in these qualities could trigger a great creative processes on the one hand but could also lead to disagreements in relationships on the other. Be forgiving of yourself and your family and friends during this time.
A prominent lunar eclipse on November 8th shapes the quality of time for this month. The Moon is conjunct Uranus and square Saturn. It is very likely that significant, collective universal developments can be experienced during this time. Some issues that have been uncertain so far – will now be decided because of new information brought forth. Many of the USA election results will be delayed.