A Pisces moon on Sunday and Monday is a gentle way to move into the USA Thanksgiving Day holiday week. A calm and quiet Stargazing sky makes this week a great time to express gratitude and turn ordinary days into a blessing.
A Mercury-Neptune trine on Monday brings a soft day when it's easy to be passive and relax. Movies and meditation are supported. Spiritual conversations and opening up to your intuitive abilities are favored. Meld into your imagination and be creative. Preparing for your Thanksgiving feast can be very creative.
On Tuesday and Wednesday the moon is in impatient Aries. Watch your speed if driving and watch out for people who are in a hurry to cut in front of you. Don't be in a hurry with your cooking, and slow down with any household mechanical appliances. Be careful with sharp objects.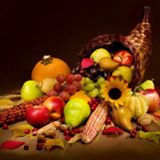 USA Thanksgiving Day on Thursday the 26th has the moon in Aries until evening, which is good for people who like sporting events. Take some quiet time to listen to your inner voice and make a list of the blessings and abundance you have enjoyed both this year and in your life.
On Black Friday, the moon is in Taurus, suggesting the purchase of durable goods or items that have lasting value. A once-a-year Venus, Uranus opposition can bring a financial windfall or unexpected changes in your love life.
This continues into Saturday; however, Neptune turns direct, coming out of its five month nap, which can bring tired drivers on the road. This is right in harmony with the opening of the Holiday Season when for the rest of the year, you can steer your boat down the Nile (river of De nial) and feel like "life is just a dream."
Sunday is the dark of the Moon prior to Monday's lunar eclipse in Gemini. You can plan on quick conversations, short projects, and keeping yourself busy and on the move. Time to plan, shop, and decorate.