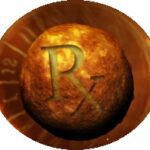 Week of Nov. 12th – Nov. 18th, 2012
WEEKLY UPDATE
This week, conversations wander off track again, and information is easily lost or delayed because Mercury is still retrograde. The New Moon in Scorpio on the 13th comes with a full solar eclipse. As if that's not enough, Mercury squares Neptune, making communication fuzzy and the truth tough to determine. However, this needn't create chaos in your world. If you know how to handle the intensity of these influences, you can harness their energy for your own greater good! Turn every experience into a positive outcome.
  This New Moon occurring on Tuesday isn't just any New Moon. As a solar eclipse, it means big changes are heading your way…whether you're ready or not! This solar eclipse wants to challenge the way you think about certain aspects of your life, and it won't be satisfied to have you simply stop and pause for a moment. Indeed you'll need to step outside your comfort zone and reconsider a major area or two of your existence, such as your finances, your health, and/or your love life. (When there's a New Moon—there's no moon at all.)

The prospect of change may make you uncomfortable and tempt you to slide back into your old ways. But be warned, if you don't act on your own accord now, the Universe will likely force you to alter your ways later, when it could be much more difficult. Act now, and the powers-that-be will ease off and support you, and possibly even bestow you with good fortune!
Unfortunately, Mercury also moves opposite Neptune on the 13th, an aspect that won't make difficult decisions any easier. Don't hesitate to double-check your hunches before you take action at this time. On November 14th, Mercury moves backwards into Scorpio creating further intense discussions.
A New Moon Eclipse in Scorpio is as intense as it gets. You're going to feel as if everything you thought you knew yesterday is no longer relevant today. 

You won't have to abandon what you know, feel, or desire, but you will need to take a closer look at why you have been moving along the path you have. By using the energy of this powerful energetic event, you have the chance for a major personal breakthrough.
A Solar Eclipse takes you down to the very depths of your being to do Soul searching and healing the shadow within, and believe me, we all have one. Although you are starting to feel a sense of "too much to do" with the holidays coming quickly, it would be valuable to take some quiet time in order to review Soul-level priorities. No doubt you have plenty of tasks and activities right now, but the solar eclipse offers you the opportunity to look at the things you are doing that are just busyness, and not your true priorities. At this time you get the opportunity to release that which gets in the way so you can focus on what your inner Spirit wants to do.
Watch for news ranging from northern Australia across the Pacific almost to Chile under the path of the eclipse. It is common that areas under the path of an eclipse to raise issues, either weather force changes or governmental, political upsets.
This energy is present in world politics now that President Obama is re-elected. Regardless of whomever you wanted to win, the Scorpio Eclipse urges you to release deep emotions that get in the way of progress—be it for the collective of the USA or issues in your personal life. The financial debate now occurring could be resolved before the deadline, for one thing. It is important that you remember that you cannot be in your power if you are dragging emotional wounds along with you. It is time to let go and move forward, both in a political and a personal emotional level. Decisions need to be made for the good of all concerned.
With so much focus on the big picture, it's important to not lose track of your day-to-day life. Call Elizabeth to set an appointment for your 2013 reading forecast. You can also sign up on this website at Psychic Services.