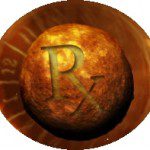 Week of Nov. 12th – Nov. 18th, 2012
WEEKLY UPDATE
This week, conversations wander off track again, and information is easily lost or delayed because Mercury is still retrograde. The New Moon in Scorpio on the 13th comes with a full solar eclipse. As if that's not enough, Mercury squares Neptune, making communication fuzzy and the truth tough to determine. However, this needn't create chaos in your world. If you know how to handle the intensity of these influences, you can harness their energy for your own greater good! Turn every experience into a positive outcome.
This New Moon occurring on Tuesday isn't just any New Moon. As a solar eclipse, it means big changes are heading your way…whether you're ready or not! This solar eclipse wants to challenge the way you think about certain aspects of your life, and it won't be satisfied to have you simply stop and pause for a moment. Indeed you'll need to step outside your comfort zone and reconsider a major area or two of your existence, such as your finances, your health, and/or your love life. (When there's a New Moon—there's no moon at all.)

The prospect of change may make you uncomfortable and tempt you to slide back into your old ways. But be warned, if you don't act on your own accord now, the Universe will likely force you to alter your ways later, when it could be much more difficult. Act now, and the powers-that-be will ease off and support you, and possibly even bestow you with good fortune!
Unfortunately, Mercury also moves opposite Neptune on the 13th, an aspect that won't make difficult decisions any easier. Don't hesitate to double-check your hunches before you take action at this time. On November 14th, Mercury moves backwards into Scorpio creating further intense discussions.
A New Moon Eclipse in Scorpio is as intense as it gets. You're going to feel as if everything you thought you knew yesterday is no longer relevant today. 

You won't have to abandon what you know, feel, or desire, but you will need to take a closer look at why you have been moving along the path you have. By using the energy of this powerful energetic event, you have the chance for a major personal breakthrough.
A Solar Eclipse takes you down to the very depths of your being to do Soul searching and healing the shadow within, and believe me, we all have one. Although you are starting to feel a sense of "too much to do" with the holidays coming quickly, it would be valuable to take some quiet time in order to review Soul-level priorities. No doubt you have plenty of tasks and activities right now, but the solar eclipse offers you the opportunity to look at the things you are doing that are just busyness, and not your true priorities. At this time you get the opportunity to release that which gets in the way so you can focus on what your inner Spirit wants to do.
Watch for news ranging from northern Australia across the Pacific almost to Chile under the path of the eclipse. It is common that areas under the path of an eclipse to raise issues, either weather force changes or governmental, political upsets.
This energy is present in world politics now that President Obama is re-elected. Regardless of whomever you wanted to win, the Scorpio Eclipse urges you to release deep emotions that get in the way of progress—be it for the collective of the USA or issues in your personal life. The financial debate now occurring could be resolved before the deadline, for one thing. It is important that you remember that you cannot be in your power if you are dragging emotional wounds along with you. It is time to let go and move forward, both in a political and a personal emotional level. Decisions need to be made for the good of all concerned.
With so much focus on the big picture, it's important to not lose track of your day-to-day life. Call Elizabeth to set an appointment for your 2013 reading forecast. You can also sign up on this website at Psychic Services.
The Air Signs
Gemini, Libra, Aquarius
Get out your dancing shoes when the Moon in Libra sextiles Mars on Monday. You'll have oodles of pep. However, you might get a toothache on Monday evening; if so be sure to call the dentist promptly. Also, you may need to take a new approach to an unresolved problem and you'll need to think outside the box. You'll achieve a career goal on Tuesday. It's possible that you'll get the corner office! A moneymaking scheme may catch your eye on Tuesday. Invest if you're convinced that the prospect has economic potential! Be very discreet when Mercury backtracks into Scorpio on Wednesday. Keep confidential papers under lock and key. You may feel stuck in a rut on Thursday. It could be time to leave your comfort zone and explore new horizons. A loved one offers you a helping hand on Thursday as well. Don't be too proud to accept aid from others. A lover will be in an amorous mood on Friday. This person will demand lots of your time and attention. This lover could become possessive of you on Saturday. Explain to this person that you lead a busy social life. A neighbor may ask you to watch a pet over the weekend. Feel free to say no if you're allergic to fur! A wish will finally come true on Sunday. You'll wear your heart on your sleeve on Sunday. Bring tissues along if you decide to watch a sad movie.

Your Love Week—Air Signs: Cleaning and organizing your home and office can be surprisingly liberating, which can open some emotional space for a new relationship. Your need for a solid relationship may prompt you to analyze the current state of your love life. If you've been attracting charming but superficial people lately, embarking on some meaningful conversations will help weed out the flakes. If you're paired, streamlining your daily tasks will make more time for love, especially mid-week. Your expertise places you in the limelight now, so look for love through a colleague or activity connected with your career. Romance can be found through a friend or group as well. Toward the weekend, a power struggle confuses love on Friday or Saturday. Emotions can feel heavy now. An issue from the past may unhinge love. What secrets are you keeping from your partner? It's only a matter of time before they find out. Love may come from afar or through a spiritual activity on Sunday and romance soars. An inventive approach invites romance into your heart!
The Fire Signs
Aries, Leo, Sagittarius
Your sixth sense will be exceptionally strong on Monday. Follow your intuition in all circumstances. Don your detective hat. You'll have to dig for the truth in a certain situation. You could learn a very important nugget of news. Your spiritual side will kick up a notch on Tuesday. Get ready to stroll on the path of enlightenment. Your living situation could change abruptly on Tuesday. An associate might ask to share your residence. Keep your ears open in a social situation on Wednesday. Consider putting your own interests first. Remember that you have a right to take care of yourself. Avoid the casino when the Moon in Sagittarius opposes Jupiter on Thursday. Lady Luck could abandon you Fire Signs at the roulette wheel. Productivity is the key to your success when Mars enters Capricorn on Friday. Use your initiative. Don't be afraid to take the lead in a certain scenario. Roll up your sleeves and tackle a challenging project. A friend could be stressed on Sunday. Be understanding with the needs of others this weekend. Don't let your fears get the better of you. It's possible that a situation isn't quite as bad as you imagine. Say thank you to the Universe when the Moon sextiles the Sun on Sunday. A certain situation will finally work out in your favor.

Your Love Week—Fire Signs:  This is an intense week for you Fire Signs! The spotlight on sexuality and emotional healing may press an emotional button that evokes some defensiveness. On the upside, verbalizing your desires can fire up a lusty romp. The spotlight illuminating your unconscious can bring valuable insights via meditation, therapy or a deep discussion with a close friend. Your intuition will be activated, and someone from the past may contact you. Your magnetism is irresistible mid-week. The focus on home and family may inspire you to revamp your décor and host a party for friends or invite a charming admirer over for dinner (and other delights!). Family relationships will be on your mind as well. Love and work may collide on Friday or Saturday. This weekend, an obligation may derail romance on Saturday but remember that genuineness can inspire love. A friendly gathering can bring a romantic interlude on Sunday. Your wit or knowledge draws admirers. A potential partner may appear on Sunday as well.
The Water Signs
Cancer, Scorpio, and Pisces
You'll be in an upbeat mood on Monday. "Optimism" will be your middle name. Get plenty of rest on Tuesday. It's possible that you're getting rundown. Take steps to increase your physical well-being. Big changes might occur at work on Tuesday. The boss could add duties to your job description. A life-altering experience may come your way when the New Moon Solar Eclipse occurs in Scorpio on Tuesday. You might discover your true destiny. Think for yourself on Wednesday. It isn't wise to follow the opinions of another. This person doesn't have all the answers! Do a reality check on Thursday. You could be exaggerating your chances for success in a particular matter. Own up to a mistake on Friday. Don't worry. The matter will be quickly forgotten. Test your limits on Friday. Don't be afraid to push the envelope in your life. Clean the house from top to bottom. Toss away items that you no longer want or need this weekend. Your creativity will soar when Mars sextiles Neptune in Pisces on Saturday. Channel your artistic talent and create a masterpiece. A blast from the past will come your way when the Sun conjuncts Mercury retrograde on Saturday. An old flame might want to get back together. You'll have an idea for a new invention on Sunday. Follow through on your brainchild! Take a walk in a safe and peaceful setting on Sunday.

Your Love Week—Water Signs: Sharing your knowledge and wisdom can bring romance this week, Water Signs, so look for a potential partner during a learning activity or spiritual gathering. Someone from another culture may capture your attention, especially if you're game for an adventure. The New Moon and Mercury in Scorpio are sure to send your powers of attraction through the roof, especially if you make your desires known. Romance may come through a class or online connection. Lightening up and having fun, while not settling for less than you deserve, will help you meet someone who knows you're special. Look for love at a party or entertainment activity. Just watch out for a miscommunication on Tuesday and argumentativeness on Friday. A conflict with your sweetie may arise. Romance can be found during a community event this weekend. A friend may need your help on Saturday. A rendezvous with a lover or close friend will bring delight on Sunday! An unusual setting can ignite passion on Sunday evening!
The Earth Signs
Taurus, Virgo, and Capricorn
Romance will bring a smile to your face on Monday. A partner might surprise you with a declaration of undying love. Be sure to mind your own business, however. Don't get involved in a friend's quarrel with another. You'll encounter a confusing situation when Mercury squares Neptune on Tuesday. Putting the pieces of this puzzle together won't be easy. You'll have to deal with unfinished business on Wednesday. Consider putting the issue to bed once and for all. You might have to make a major life choice when Saturn is quincunx Uranus on Thursday. Choose carefully. Your decision will have far-reaching consequences. Your stubborn side might emerge on Thursday as well. You may refuse to compromise in a particular matter. Tension could spring up in a relationship on Friday. Take some time apart if anger starts to rise. Think about volunteering your services to the community on Saturday. Find a cause that's worthy of your attention. Domestic issues will need your attention. An outing may have to be canceled so you can do some home repairs. Your sense of personal power will activate on Sunday. You won't take a back seat to anyone this weekend! You could rewrite a life goal. Pursue the aspirations that suit you best. A new friend with an adventurous personality will appear on the scene on Sunday!

Your Love Week—Earth Signs: Heightened partnership energy will intensify activities, discussions and/or issues with your significant other this week, Earth Signs. Seeing another person's point of view can bring a breakthrough. If you're solo, you may meet someone new online or by networking with friends or coworkers. The heightened energy of the new moon eclipse will accelerate your social life now. Look for romance and other opportunities through a group project, friendly gathering or community event. Your intellect is a catalyst for romance now, so share your humor, wisdom, ideas and feelings to attract someone special. Romance can be found online or while traveling. Just try to avoid a clash of wills on Friday and Saturday. You'll likely get annoyed easily on Friday, and love may seem complicated on Saturday. Emotions may be wobbly on the weekend. Volunteering for a cause you believe in may bring a romantic encounter on Saturday. A public event can bring a new love interest on Sunday. Trying something new revs up romance on Sunday evening!