Relationships and finances are on a roller-coaster ride with Venus scheduled to make two squares and a sign change this week.
On Monday, November 16th , a sunny Venus-Jupiter square brings in luck. Ask for a raise and buy that lottery ticket.
The Leonids Meteor Shower is best to view from midnight to dawn Monday night into early Tuesday the 17th.
Communications can trick you this week with a Mercury-Uranus opposition on Tuesday. This is the last of three face-offs that have occurred over the past six weeks, and adds excitement and nervous tension to the way your mind works.
On November 12th, the final Jupiter-Pluto conjunction occurred; the two others were last April and June. This can be directly tied to the Covid virus. Hopefully this energy represents a path to the end of the virus, but it continues to be important not to strain your patience and go along with the procedures that help minimize the expansion of the virus.
Love and money Venus is making several challenges to planets in Capricorn this week, precisely on the 15th and 19th. This energy presents an opportunity to review where your values are coming into manifestation as well as where you need create more focus to be better grounded. Do you need to communicate boundaries in a diplomatic way? Is it time to get serious about your budget, or how much you want to spend in the coming holidays?
Wednesday is a great workday with a hard working Capricorn moon and the sun making gentle harmony to Capricorn's favorite planet, Saturn.
Just when everything seems to be going well, a Venus-Saturn square arrives on Thursday. This energy brings in dark clouds and the possibility of a disappointment or loss.
The possibility gets even darker and more complicated on  Saturday, November 21st when Venus moves into Scorpio until December 15th. Long buried problems in love or finances begin to claw their way up to the surface over the next month. Be willing to go into deeper and to have some more vulnerable, emotional conversations now. Although this process can be uncomfortable, it is a necessary part of your Venus/love ascension process.
The energies get sunnier in the later part of the day when the Sun enters Sagittarius, which brings in the Holiday Season. This is an energetic, bold, and extravagant sign that does everything to the nth degree. This emphasis is on people of different colors and cultures, higher learning, travel, adventures, along with some sports.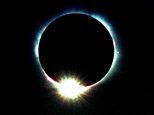 There will be a lunar eclipse in Gemini on November 30th. Lunar eclipses tend to bring up deep emotions, and Gemini communicates them, deeply. Use this energy to open your mind to fresh new possibilities in the New Year.