---
You should be feeling VERY lucky this week! Jupiter, the planet of good fortune turns direct on Monday, May 9th – which means that it is soon operating at full capacity. Monday is the most interesting day this week. This positive shift means that you can expect a major, lucky break in an area of your life, whatever house Jupiter is moving through in your chart that could change everything. On that same day Mercury will cross the front of the Sun. Quick-paced Mercury is busy all week, so this week will fly by.
The unrestrained exuberance of this combined energy opens you up to incredible new opportunities for happiness, love, and success. Jupiter direct brings potential to reward you in many positive ways!
Communications planet Mercury transits across the face of the Sun, which is called an occultation, and happens only about 14 times per century. It will do so on Monday, the 9th and again in November. This Stargazing wonder will be visible in the eastern part of North America. Of course, you should not look at the sun without the proper eye protection, but tune in, meditate, and open to new ideas to manifest your needs and desires. The last one was in 2009 and the next one will be in 2019.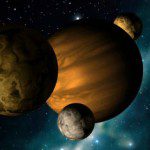 Jupiter ending his retrograde cycle (since January 7) tells you to get unstuck and get moving in the coming weeks. Although Jupiter is still in the earth sign of Virgo, the big hurrah is that Jupiter is free of its shackles and our collective good fortune will be moving forward, in the right direction for the rest of 2016.
Because this special Sun-Mercury-Jupiter alignment is also in inferior conjunction with Taurus, Monday is a good day to spend time reflecting on the parts of your life that you values most.
The busyness of Monday continues into Tuesday with a lucky combination between beautiful Venus and generous Jupiter. You can buy a lottery ticket to take advantage of this fortunate pairing. Remember, these planets are in the practical earth element signs of Taurus and Virgo, suggesting that your luck comes from hard work not financial windfalls. But "Hey, you never know."
Early Thursday evening, the messenger planet plays nicely with intensely deep Pluto. You can have those emotional, and sometimes difficult, conversations. There is no need to beat an issue to death, just say what needs to be said and move on.
Talkative Mercury is much lighter on Friday the 13th when he aligns with the relationship planet Venus. It will feel like going from the emotional depths on Thursday to light and fluffy on Friday- the most charming combo of the week and not a bad start to the weekend!

A Virgo moon on Saturday is great for cleaning closets, clearing clutter, and cooking some healthy food.