---
This week is like going out to a diner, it has a little bit of every sign, and that's not all. The squares, oppositions, trines, and conjunctions are also on the menu. The first thing this week offers is to clean up and clear away the "old," whatever was left in the Mar's Saturn opposition from this month. We are also opening a new month, June, on Thursday.
May closes with a Mercury/Pluto trine in Earth. Time to make plans, set your focus, and discuss important matters, from business to close relationships.
June begins with the moon in hard-working Virgo, and Venus makes a nice trine to Saturn. That is a good business combination where you can accomplish a great deal. Being focused and committed is your new path to love, although you could feel a bit wobbly when Venus conjuncts Uranus on Saturday. This combined energy can bring exciting, unusual relationships that breaks down all barriers, while bringing powerful sparks to the flames. Be careful not to burn this out too quickly.
This support continues through Friday morning, and then get ready for a social weekend with the moon in romance oriented Libra. Friday and Saturday are also good for reaching out to new friends or groups.

With Venus aligning with Uranus early Saturday morning, you can step beyond your comfort zone to try something new and different. At the same time, the Sun makes a happy trine to expansive Jupiter. This supports writing, philosophical pursuits, or being in nature.
Sunday brings in a bit of confusion, but after all this powerful energy, is it no wonder? Mars moves into Cancer that same day, so things can go from hot and steamy to emotional and yucky. This may be a day to relax on the patio, or by the poolside. Don't make any big plans.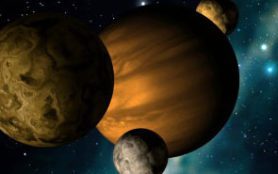 Jupiter ends his retrograde cycle next week on the 9th (since early February), so the stuck energy of spring will get moving at a faster pace in the days ahead. Combine that with a variety of Mercury aspects all month and you have a formula for a bunch of short projects and activities that keep you on the move all month. So roll up your sleeves and let's begin.