---
The good news this week is that you realize you are opening to a new set of values and life priorities. The challenge is that you are not quite sure what those new values and priorities are just now. Allow them to develop through the end of June, with better opportunities to push ahead with more power come late August.
With the Sun, Mercury and Venus moving through Taurus the first three weeks of May, it's best to pay attention to practical matters such as your budget, home repairs, physical health needs, walking, as well as scheduling massages to help your body release. Also by surrounding yourself with sensual pleasures such as inspirational music and flowers from the garden.
A Sun Moon trine in earthy Taurus and Virgo strikes a productive note Monday and early Tuesday. This practical one-day window of opportunity is great for working in the garden, kitchen, crafts, or simply taking care of business.
The early week is filled with happy planetary pairings. The only thing to watch out for with nice energy is the tendency to get lazy and go on cruise control. While it is fine to gift yourself with a lazy Sunday, it is equally nice to use supportive energy to help you accomplish simple tasks that are nagging you for attention. You know, the ones you are always putting off, such as cleaning out closets, drawers, or the basement.

Invest time developing relationships during the early workweek, and that includes both personal and work partnerships. By Thursday, when the moon moves into Scorpio, you are pushed to focus on all the things that did not get done during the softer energy of the early week. The Sun enters Gemini Friday morning, and it is time to pick up the pace. It promises to be a restless weekend.
The Full Moon is on Saturday the 21st (at 2 degrees Sagittarius). Because Mercury is slowing down to end its retrograde cycle on Sunday, the 22nd, there is a certain disjointed, hurry up and take your time dynamic going on. Since the signs of Gemini, Virgo, Sagittarius and Pisces are adaptable, you can flow through any frequency changes. As you are challenged to make a plan, allow room for flexibility and change.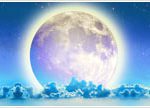 The fire and earth elements are strong at this full moon, and that means you can bring your creative and spiritual ideas down to work in the earth plane. Remember that assertive Mars is still in its retrograde cycle (April 17-June 29). Take a close look to determine if your actions are in harmony with the direction your philosophical spirit wants to go. The Full Moon combined with Mars retrograde in adventurous Sagittarius is reminding you that life is supposed to be fun. Make a plan to increase the fun, adventure, and creative aspects of your life. Donald Trump was born at a Sagittarius-Gemini Full Moon, so watch him to see how this energy affects him. He needs to be careful and cautious.
During this moon phase Mercury ends his three-week retrograde cycle early on Sunday morning. At about the same time, the Sun opposes Mars adding fuel to an impatient fire. Fortunately, it is Sunday morning so you are more likely to feel annoyed about something rather than actually get stuck in a traffic jam. It feels as though part of you needs to get moving and another part of you cannot even get started. Luckily, that feeling settles down towards the end of the day.