---
This week focuses on meditation, artistic activities and helping others. Mercury in Gemini has moved into its storm as it prepares to retrograde on May 18th. It is difficult to say if this retrograde time will be difficult or smooth for you. It will oppose Saturn in Sag. early on, which can bring you either Lady Luck or a crisis to go through and solve.
On Wednesday, Mars moves into Gemini until June 24th. If ever there was a multi-tasking, too many irons in the fire combination, this is it, especially the three days it will align with Mercury. (May 24th – 27th) Mars opposing Saturn can be an extremely irritating transit, requiring great patience and strength as well as a willingness to keep yourself in the background for awhile. Also, your relationships with others may not be as satisfying at this time. (More on this next week) Luckily there's a balance with the Sun moving through Taurus, bringing in an earthy strength.
Create projects that are short and quick so that you can easily move from one to the next. Deep research and focused intent are difficult now as the mind moves like a hummingbird and has a problem holding still. Remember that Mercury is going retrograde, so rushed projects now will need repair or redoing later. Keep projects moving, but don't force them. Also watch out for other drivers, and make sure to get exact directions before you leave the house because the GPS' could either not work or give incorrect information.
Thursday and Friday require physical movement to release any pent-up frustrations. Hit the gym, go for a hike, dance, or do yoga. Just move that body! A bit of physical exhaustion helps late Thursday evening and early Friday morning when your overactive mind keeps you awake and restless. Friday hits an unexpected stumbling block, creating a lot of break lights, because no matter what forces you exert, you won't be able to get anything going, without a lot of stopping, starting, and waiting for the red light to change.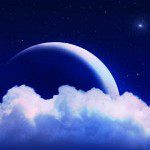 Relief comes on Sunday with a New Moon in late Taurus. If you check out the planets in the western sky just after sunset, it should be quite pretty. Red Mars wants you to open to new ideas now. Beautiful and bright Venus wants to bring you comfort and nurturing. In the background will be the Pleaides that asks you to open to your higher vision. The combination of planetary energies challenges you to live in integrity and purity. These forces working closely together help you to manifest new and higher values in a tangible way. Of course, that also means that you must release outdated values and beliefs in order to get the most out of this New Moon.
Fortunately there is help from expanding Jupiter working in harmony with Saturn and revolutionary Uranus-all helping you to move forward. Expect the next two weeks to bring you new beginnings as the Mars/Saturn face off shows you the best way to take advantage of these new energies. As you move through the realignment and challenges of this week, just take a deep breath, while releasing old patterns and plan your new start date for next week, when things start moving forward again.