There are numerous energetic shifts this week, so expect to hear some good news.
When Mercury moves into Gemini on Monday, May 11th, it brings a positive energy and uplifting news over the next three weeks. This is an excellent time for negotiations because the energy of Gemini brings in a good communication flow. Pay attention to your feelings on Monday as well. Slow Saturn is stopping in the sky to turn retrograde until late September.  However, quick Mercury moving into equally quick Gemini feels like your brain going 100 miles per hour while your physical body is standing still
Tuesday is good for serious thinking and communications, but not a good day for initiating important new actions. It's like turning off your phone and telling everyone to go away while you focus on preparing your taxes or other activity that requires quiet attention.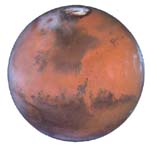 By the time you wake up on Wednesday the 13th, warrior Mars will have moved into psychic Pisces until June 27 while graceful Venus turns retrograde until June 24. Venus going retrograde brings us forty days in which to review our finances and love life.  Love and commitment are important but so is Venus-ruled finances and your creative projects that may need to be renegotiated from a different angle or new approach.  Venus has you opening to new ideas for relationships and finances. The love and money goddess will have many people working on finances and budgets given the challenged economy.
On that same day Mars slips into Pisces which indicates some stormy weather with your energy for the next month. Pisces energy dampens your willpower, dampens your energetic fire, and may leave you not knowing which way to go. Try to find a charity or exciting event to pour your energy into which can avoid a depress state of mind or some sort of mind escape. Remember, Gemini likes things that are short and quick, and that can include picking up short projects to get your mind  more active as well as produce a little extra income.
As if that is not enough for one week, expansive Jupiter turns retrograde on Thursday until September 12th. Jupiter will be retrograde for the next four months, which gives you a nice length of time to do some soul searching about your inner talents and your desire for success.  Thais activity in the heavens means that the three planets that are aligning this year in Capricorn, are all moving backwards until early October. The likely interpretation is that everyone will spend the next several months adjusting and healing their life from the disruptive events happening worldwide earlier this year.

Two Sun trines bring a positive note to the end of the week. Early Friday, may 15th, the Sun-Pluto trine is a powerful force and brings out several hidden issues that will move you towards transformation, and on Sunday, May 17th, the Sun-Jupiter trine makes for a very lucky day or two.