THE ANNUAL 2014 PREDICTIONS WERE POSTED NEW YEAR'S DAY, and the monthly 2014 Predictions are posted at the first of the month. You must join our monthly subscription pages to read them. The magazine, "Psychic Visions Plus," posts monthly predictions, your monthly Numerology, Angel Guides, monthly Tarot for each Astrology sign as well as a monthly astrology forecast.
ROB MC CONNELL AND THE 'X'-ZONE RADIO/TV SHOW
Watch my weekly Stargazing Report with the 'X'-Zone every Monday on You Tube
Readings with Elizabeth Joyce
STARGAZING – YOUR WEEKLY FORECAST
Week of July 20th — July 27th, 2014
A time of great abundance is here! Saturn, the planet of personal challenges and plentiful rewards, is stronger than ever, as it turns direct on Sunday, July 20th. Saturn is the planet of hard work, sternness, and serious but successful actions. Now is the time to channel this powerful energy to the area of your life that needs the biggest boost!
Think about where you want positive change in your life… Focusing your intentions as and during Saturn Direct can truly make things happen! Whether you want to improve your relationship, your career, or your wellbeing, this is the time to get started.
A powerful alignment between Mercury and Neptune brings deeper commitment and understanding while a conflict between the Sun and Mars puts fragile egos on edge. You can have conflict or you can have contentment. Which will you choose?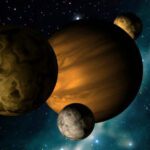 On Thursday we all will experience the Luckiest Day of the Year. The big news this week revolves around the planet of expansion, abundance, and living life in a big way, Jupiter. It changed signs on the 17th and moved from Cancer to Leo where it will be for the next year. A stellar day for everyone will be July 24 when Jupiter conjuncts the Sun. Some astrologers consider this to be the luckiest day of the year. THIS is the day to buy that lottery ticket.
Sunday and Monday have planets changing direction, and that means fluctuating energy early in the week. Saturn ends its retrograde cycle since early March, so the sluggish feeling from last spring begins to dissipate soon. Uranus begins its long retrograde cycle until December and we pay more attention to planets when they are changing direction. Uranus means "expect the unexpected," so make room for flexibility in your schedule early in the week.
On the 24th when the Sun aligns with expansive Jupiter in Leo. This feel-good alignment is ripe for taking on something creative, fun and big. A job upgrade, the mortgage loan comes through, your book gets published, one proposes marriage, or you find out you are expecting a child.
On Friday the 24th, Mars enters Scorpio for the next six weeks. It is significant that the warrior is moving to new ground now. Ambition and focus come together; this is great if you have research projects.
The New Moon in Leo on the 26th, making the fire and water elements very strong. Time to combine your emotions and creative passions now. However, it would be good to establish goals and deadlines because fire can burn out of control and water will overflow. That can mean a lot of running around plugging holes in the dikes of your life.
Because this new moon aligns with generous Jupiter, you can take on big projects that are near and dear to your heart. The challenge is to not take on so much or make projects so big that they never get completed. When you set your objective and make it a priority, it is more difficult for people to distract you with their personal perceived emergencies. The rest of the summer can be a lot of fun. Take advantage of it now because the playful tone goes away in late August, as the Labor Day weekend approaches.
Your summer mantra is "I am finding new solutions to old problems. I choose Love, Life, and Alignment with the flow of God's plan."