---
This week brings us an emotional pressure cooker with an emotional New Moon and a worrisome opposition. Luckily there is a stabilizing trine that will help to calm the storm.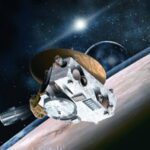 On Monday, July 13th, NASA will be receiving information from the spacecraft New Horizons flies near Pluto after a nine-and-one-half year journey. At that time we will find out what information the spacecraft is sending back to Earth. . History is being made, for sure. Do not miss a single moment of this incredible expedition, where a point of light in the sky becomes a real, tangible, previously unseen reality. 
The emotional climax comes on Wednesday, July 15th. Watch out for tears and fears. Also, the Cancer New Moon marks the beginning of a fertile two-week period of growth. However, this New Moon is carrying a lot of baggage. Mars and Pluto (Business and Karma) are in a face-off that is guaranteed to slow down any start-up plans, and Mercury doesn't help matters when it gets into the act.
The elements water and fire are strong now, so do be careful of impulsive actions or getting caught up in other people's emergencies. It would be wise to establish goals and deadlines now, or you will find yourself quite busy in the next two weeks, but not actually getting the things accomplished that you wanted to get done. In other words, it will be easy to get sidetracked into other projects or the needs of everyone else. Remember that your projects are important too.
A sacred symbol at this New Moon is "a woman and two men castaways on a small island of the South Seas." Meditate on this symbol for personal meaning, but consider the complexities of relationships, as you meditate, combined with emotions and spirituality. Also consider if you have a healthy balance between caring for others and self-nurturing ( a theme all month). There is a definite emotional release energy to this New Moon. Do not be hurtful with your words, but you still need to say what needs to be said.
Thursday, July 16th brings a red light warning if you're planning to start something new. While waiting fro the light to change, next week, don't forget to stay hydrated, get plenty of exercise, and try not to go off the deep end. Thursday also brings in that trine that helps to stabilize the general atmosphere.
The moon finishes the week in Leo, so open your heart and play. On Saturday afternoon and evening, both Venus and the moon move into purifying Virgo, which brings in the energies of quiet and reasonable. Have a simple Saturday evening with healthy food.
Because Venus is turning retrograde in Virgo next week – on the 25th, this prior weekend, July 18-19, marks the beginning of the slow down where you will be revising your values surrounding money and relationships through mid-September.