---
Mercury turns direct on Monday, the 25th  which means that Mercury is on it's way to getting back into full gear, and we all can get back to our New Year's resolutions.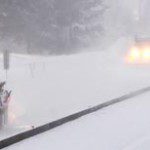 The last week in January promises to be mostly harmless, however the entire East Coast is in the midst of enduring a huge snow blizzard, which is rare on a Full Moon. The moon's pull will create even higher tides and flooding along the shorelines. Perhaps transportation and communication issues will return to normal by Wednesday. What a show this was, with four to five major airports closed! Such a rarity.
As the week opens, Monday brings an energy shift to get you moving. Mercury ends his retrograde cycle. Don't pack your schedule too tightly early this week and allow extra time for traffic problems. You can be guaranteed there will be many traffic problems after this intense storm. Although this communications breakdown cycle is done until the next one on April 28th, the "shadow period" before everything gets fully moving is not until mid-February, just around Valentines Day.
The good news is that stalled projects and ideas that fell to the back burner of your to-do list start to get moving this week. The Virgo moon on Tuesday and Wednesday will help you get a lot of work accomplished as long as you are systematic and organized. These are also good days for natural healing including herbs, massages, or a purifying sauna; especially with the slow as molasses tensions of a January with a Mercury retrograde.
The final days of this final week of the month are under a social Libra moon. You can be assertive, yet diplomatic, in your conversations on Friday, using what can be called the velvet-covered knuckles. Pay attention to dreams or meditate early Saturday morning as graceful Venus creates harmony with psychic Neptune. It is a soft and gentle energy. The only challenge to Saturday is not really a challenge at all. The moon is in its introspective void-of-course phase all day until it enters emotionally intense Scorpio in the early evening This makes Saturday a better day to complete existing projects or to beautify your home, rather than doing anything dramatic.
Saturday evening is best spent with those who are very close to you. Friday is the better social evening for the weekend, and Saturday is the better time to be with someone you trust in an intimate way.
January ends with the moon in emotionally intense Scorpio. When the moon is at the last quarter phase, you are challenged to consolidate your energy. Finish projects started earlier in the month.
Saturday, January 30 brings a meetup with Mercury and Pluto. This can bring sad news or climaxes to some tense events. Who will be leaving the presidential hopeful line-up? What is happening with the Academy Awards? A possible postponement and/or serious restructuring?
Sunday, There is a mental and traffic challenge as the transportation and communications planet Mercury makes a ninety-degree square aspect to earthquake planet Uranus. Are we to expect more sudden weather upsets?
Impatience in traffic and resulting accidents can be one interpretation of this energy. A higher perspective urges you to open your mind to innovative new possibilities by trying the impossible and thinking outside the box.
Most of the challenges of January will ease off in February. It is like the calm between the storm of Mercury retrograde in January and the two eclipses coming in March. Use February as a time to get moving on projects while most of the planetary energy is being supportive to your efforts.