Ambitious Mars moves into hard-working Capricorn Sunday morning for six weeks.This is a build for the future combination and rewards are available for hard work and long-term planning. Mercury turns retrograde in Pisces on the 16th until March 9, so allow room for adjustment as plans change.
There's an energy shift on February 18th when the Sun moves into the emotional sign of Pisces through March 20th. This fish lives exclusively under water, meaning it can drown in emotions. The Cancer Crab and Scorpion can also live on land. Remember, Pisces is a duel sign and has two different sides. Many Pisces are tender-hearted Souls with artistic and musical talents along with a romantic and compassionate nature. However, the other side is fiercely trying to escape reality through addictions, compulsion, and dependencies. As you pass through these energies you could reflect a bit of both sides. The extreme sensitivity and emotions may make things a bit more difficult.
As an interesting coincidence, the Moon moves into Capricorn on Tuesday and Wednesday as the Sun moves into Pisces. Use all this Pisces-Capricorn energy to open to a higher vision that can come down to earth for mundane use in your life. This is a perfect to meditate and manifest a dream into a reality.
Keep a close watch on your health this next month because all of these emotional ups and downs can weaken an already delicate immune system.
Thursday and Friday are good days to step out of your regular routine. Get together with friends and try something new, be it a new restaurant or activity. The Aquarius moon is great for exploring new groups and innovative ideas. Sparks can fly on Friday, February 21st when Mars in Capricorn trines Uranus. There's a lot of uncontrolled physical energy available and if you can channel it, this weekend is an excellent time to make something unique happen.
The Moon moves into Pisces on Saturday, just before it is new on the 23rd. Watch a good movie or listen to music on a quiet Saturday.
The big day this week is Sunday the 23rd, with the New Moon in Pisces. This New Moon nearly alignes with communications planet Mercury retrograde. Give yourself some sacred space to "feel" if your path needs to be adjusted, and what that might look like.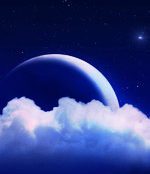 The February New Moon is the darkest and calmest point this month, holding all the right stuff for making any type of new beginning, The Pisces New Moon has a double blasé of Pisces energy and offers you a once-a-year chance to meditate, use your inner vision, inspiration, and compassion to release old habits, addictions, or dependencies and begin a new routine that will benefit your health and spiritual path.
Pisces is associated with intuitive abilities, so it needs the time and inner space to allow the vision to come to you, That can be difficult with the outer world pushing you with too many things to do. However, take the time.
There is an abundance of planets in action and adapting signs, so expect to be constantly shifting while on the move. Love and money Venus is challenging you to move much faster on a new path, while Jupiter is urging cautious expansion. It is important to open to new possibilities now, but that doesn't mean you should immediately drop that which is working for you in the here and now.
As you can tell, there is a bit of a balancing act as you go beyond the veils of the material world into the other realms, and must still deal with it. Persevere because you're building your personal stairway to the stars!