---
This is a Star Packed busy week in the cosmos. We have a New Moon and Solar Eclipse in Aquarius along with Valentine's Day, Ash Wednesday, the beginning of Lent, the Chinese New Year, Mardi Gras, and the week ends with the Sun moving into Pisces. Wow!
Focus on responsibilities and tangible projects on Monday under a productive Capricorn Moon which brings a pleasant lunar relationship, so you can relax as you accomplish tasks rather than stressing out.
Avoid pushing your philosophy on others on Tuesday. If you have to deal with stubborn people, wait a day or two.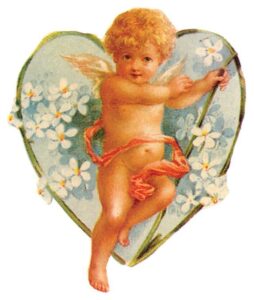 Wednesday is Valentine's Day and the Moon is in friendly Aquarius. Work on the friendship side of your relationships rather than the romantic love that is typical of this holiday. That's not to say that there is not room for some fantasy romance because Venus is moving through Pisces, a sign that loves fantasy and illusions. Perhaps the best idea is to combine romance and friendship. (Contact either Elizabeth Joyce or Frank St. James for your "Love and Sweethearts reading.) It's also Ash Wednesday, but make sure you don't give up on love.
The Solar Eclipse is on Thursday February 15th, so remember that it s not a good time to sign documents or make any important decisions. You will not be able to see this partial eclipse unless you live in southern Chile or Argentina, but you should be able to feel it. Think back to last August when the total solar eclipse occurred at the end of fiery Leo. This 28 degree Aquarius eclipse is exactly opposite the Leo Eclipse last August, so you should be able to get perspective on your life between now and then.
The conversations with North Korea were very fiery then, and the first announcements on Flynn, Kushner and Trump Jr. came out in the news. Watch for news on these same issues from a different perspective now.

On the personal level, a New Moon urges you to open to something new, and an eclipse amplifies that energy. Aquarius helps you open to friendships, groups and organizations, so get out of the house and meet new people. It is also an inventor, so put effort into how you can take your brilliant idea to market- and remember that Aquarius creates win-win environments for the good of the collective consciousness.
Perhaps it is time to tune in to your future needs and begin to prepare for the day you will need something. Saving, conserving, and getting rid of your junk is a good idea now.
The Chinese Lunar New Year on Friday is calculated to be on the second New Moon after the December Winter Solstice and this year is the Year of the Dog. Widely celebrated widely throughout Asia. There's much symbolism attached to each new year on the lunar calendar, and many traditions are followed in hopes of an auspicious start.
Each year is represented by one of 12 zodiac animals that reflect traditional Chinese culture, including how people see themselves and their relationship with the world.
As China ushers out 2017 as the Year of the Rooster, citizens are readying to welcome 2018 as the Year of the Dog. The Spring Festival in China is celebrated for several months as a time to gather with family and hope for good fortune in the upcoming year.
The 2018 Chinese New Year celebration will end with the Spring Lantern Festival on March 2, 2018. (Go to the website e96b6abc29.nxcli.net and join the subscription pages to find out how the Year of the Dog will effect you.)
The Moon is in Pisces for the weekend, which is always great for a movie, music, or meditation. The early hours of Saturday may produce active penetrating dreams, as Mars is square Neptune. Mars is action and Neptune is dreams. Combine that with the Sun aligning with Mercury and you have a combination for restless sleep, waking up early, or waking up feeling like you were on the move in your dreams.
On Saturday evening, mental Mercury moves into Pisces for the next three weeks. There's a tricky few hours as Mercury changes signs. Take the time to meditate and open your intuition. Be sure to journal your dreams. Begin to write a fantasy story or screenplay.
The Mars/Neptune square on Saturday could bring more worldwide news. It signals lies, deceit, suspicion and scandal to come to the light. The effects could be devastating, especially for Mr. Trump and his organization, because he was hit directly by both eclipses, August, 2017 and now. Communication is tricky because Mercury demands, "The facts, and only the facts, Mam." It is hard to stay away from fake news and bring you only the facts with emotional Pisces at the helm.
Sunday begins with the Sun moving into "I want to hit the snooze button and sleep a little longer" Pisces and the Moon moving into "get out of bed and exercise" Aries. It's like driving a car with the breaks on. Opt for a little peace and quiet in the morning. Later you can make your to-do list for next month as a brain exercise. Perhaps a combination of a little extra dreamtime and light exercise, like getting a pedicure, will help this combination. Don't forget, Pisces rules the Feet!