The Monthly 2013 Predictions are posted at the first of the month. You must join our monthly subscription pages to read them. The magazine, "Psychic Visions Plus," posts monthly predictions, your monthly Angel Guides, monthly Tarot for each Astrology sign as well as a monthly astrology forecast.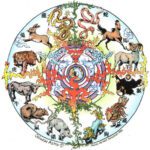 Happy Chinese New Year – the Year of the Black Water Snake… Join our pages here!

STARGAZING – YOUR WEEKLY UPDATE
Week of Feb. 11th – Feb. 17th, 2013
February 10's New Moon in Aquarius directs you toward your favorite cause, so roll up your sleeves, tackle this project, and don't worry if you fall short of your plans, you'll still be further along than you were before. It's always rewarding inwardly to do charity work or help others.
A date at your home can bring delight at the start of the week. Also, talking about your home-life and family history will strengthen love. Passion may get out of control mid-week (is that a bad thing?).
Break out of old habits on Valentine's Day when the Moon in pioneering Aries rewards people who take risks. Fast-paced and innovative experiences can make this a memorable time. But the tempo slows for the weekend with a lunar shift into sensual Taurus that is made for stopping and smelling the roses. Enjoy some earthly delights to open hearts and make relationships more comfortable.
Challenges brew on February 15th and 16th, when Mars, Pluto, and Saturn get together to make your life difficult. Determination and perseverance will pay off, though, so remain strong and hold your ground!
On February 18th, when the Sun moves into Pisces, a hint of dreamy romance may nudge its way into your life. You'll also develop a newfound sensitivity that could lead to helping those in need. That same day, Saturn turns retrograde, signaling that certain projects will have to slow down so you can go back over them with a fine-toothed comb.
Getting physical brings out your lusty side on Friday and Saturday. A misunderstanding with your partner is likely on Sunday night.
Why not delve more clearly into your heart's desires with a 2013 Reading? Straight to the point, Elizabeth gives you everything you need to take advantage of the sheer power of the 2013 energies.
HAPPY VALENTINE'S DAY
WILL YOU BE MINE?