---
It's Christmas week, as well as the beginning of Hanukkah and Kwanzaa, along with the energies of Grace and Love. The Sun makes a trine to Uranus, the planet of surprises, and promises to be quite different than other years and very unique. Christmas Eve holds a special Capricorn New Moon. A Solar Eclipse, the last one of this decade, on Christmas Day brings in lucky Jupiter, signaling us that 2020 holds prosperity and good fortune in it's wake. This Solar Eclipse will be visible as a bright ring around the Moon. In folk lore that signaled a heavy, cold, and snowy winter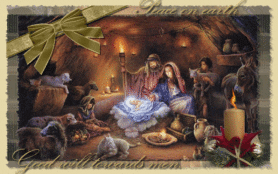 This eclipse in serious, reserved Capricorn, has you wanting to be quiet and introspective.
The Solar Eclipse is on December 25th at 5 degrees Capricorn. Five of the ten planets we use in astrology plus dwarf planet Ceres are in Capricorn now. Although Capricorn does tend to have a dry sense of humor, (Think of the late comedian Jack Benny,) the sign represents boundaries, restrictions, certifications, rules, taxes, infrastructure and sacrificing in the short term for long-term rewards. However, please remember that a New Moon that includes a Solar Eclipse is not a good time to plant any seeds for new beginnings. It's a time to get quiet, go within, and focus on the adjustments you need to make for the upcoming decade.
Watch for news under the path of the eclipse from the Middle East to India-Pakistan as well as China and Indonesia. On the personal level, it is time to get serious about your priorities and goals. Where do you need to get more disciplined or set boundaries so others do not take advantage of you? So close your eyes, hold your nose, and jump in. There is the opportunity to renovate your life if you are willing to make lasting changes. Make friends with this energy because changes are coming to you, even if you think you are happy in your well-dug groovy rut or not). There is help because supportive Venus is moving through friendly Aquarius bringing us "far seeing" energy. You can find the help you need if you are willing to open to new groups, friends, and organizations. (Remember, "if you don't ask, you don't get.)
Mercury finishes up the year on Saturday, December 28th and this shift is centered on organized thinking and structured ideas making it an excellent week to sit down with your Higher-Self and figure out tour goals and game plan for 2020.

Sunday is a quiet day under a friendly Aquarius moon, and there are no planetary aspects, which can have you feeling a bit detached from the world. Whew! Finally, rest time. Perhaps you can get with the kids and make cookies for New Years, while Dad watches the game.
The Moon is in Pisces on New Year's Eve. You can open your intuition and be a visionary, watch a movie, create a fantasy, or escape in those energies associated with Pisces.