---
If you need a push to complete something you've been putting off, there's a nice Sun-Saturn trine on Monday, August 1st, that will get you right back on track. This trine leads us into a New Moon in Leo on Tuesday. This is a great business combination, or for anything that combines heart and practical matters.
Monday evening is the dark of the moon, so a good time to share in spiritual or inner matters, either alone or in the company of heart-centered friends.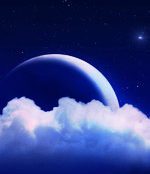 The New Moon in Leo arrives on August 2nd at (11 degrees Leo). It's time to let your passions and creativity come out to play. This New Moon has strengthening and vitalizing energy to spare if you take heart from this cosmic signal that it's time for new beginnings.
Adding to the enthusiasm is assertive Mars moving into Sagittarius until September 27th. You may remember that Mars turned retrograde in Sagittarius back in April, so this is the signal that it is time to move forward on any projects stuck on hold since last spring. Mars leaves Scorpio for the final time and reenters Sagittarius. This movement puts Mars exactly where is was last March and is an indication that if there's a person, place, or project that was left by the wayside last Spring, both Mars and the new Leo Moon are giving you the thumbs up to pick it up now and run with it.
Sagittarius loves an adventure and the great outdoors, and Mars wants to be physical and get the body to move around a bit. Take advantage of the tail end of summer while you can, because the tone becomes more serious towards the end of the month. This is also a good time to do a review of your relationships and/or lack of relationships, and that includes all types of relationships.
Venus and Mars are challenging each other now, so it is good to see if what you say you desire is in harmony with your actions. There is also a small battle between your logical and intuitive sides of the brain now, where part of you wants to be practical and work, and another part just wants to drift down the river on a slow inner tube. Create a plan where there is time for both.
On Friday, August 5th, Venus steps off the Leo stage and moved quietly behind the scenes, as it joins Mercury in Virgo until the 29th. While mercury is comfortable in Virgo, it's the kind of energy that makes the romantic side of Venus uncomfortable because romance isn't exactly the place for Virgo's love of critical analysis. With this combination at play for this next month, the key to a happy heart is being your own best friend and take time to reach out and help others.
The moon also moves into Virgo for the end of the workweek, and that means it is time to get organized and tend to all the details of your life. Virgo wants to eat healthy and "keep it simple." Virgo likes to see the results of her hard work, so you benefit by doing projects that you can check off your list. Relationship planet Venus has moved into Virgo as well, and this combination helps you bring clarity to any relationship issues that have been muddled or illusive.
This energy also helps those simple organizational relationship issues, like who takes out the garbage, vaccum's the house, or who takes the kids to music lessons this week. Although it may not be your idea of fun, this energy is good for home beautification and remodeling projects or simple chores and tasks that make your life easier down the road.

Saturday is a mixed bag of energy. The moon moves into Libra for the remainder of the weekend to promote harmony and nice social interaction. Yet the early morning holds a challenging Mercury aspect to Saturn, so your brain will take longer to turn on. Save any mental work for another day. The challenge between Venus and Mars at Tuesday's New Moon is exact on Sunday, Aug. 7th, so this is not the best time to force relationship issues (unless you want them to go away).
This also brings the struggle between work and play. Are we having fun in this relationship, or is it too much work? The challenge is to create a way to keep adventure and harmony in relationships while still being practical. Oh yes, and pay attention to your financial expenses now. Be aware but don't be cheap! Have fun, enjoy, and keep things in balance when possible.