The biggest action of the week is on Tuesday April 14th and Wednesday, April 15th when the sun makes a challenging square to Pluto and Jupiter. This energy will have some far-reaching consequences because is represents a massive power struggle. Now, most of us are not operating on a national or worldwide level, we still could be trying to accomplish something that is giving us a bit of resistance.
Know that you cannot force square pegs into round holes under this energy, but you can let go of limiting beliefs. If you're trying to accomplish something early in the week, don't use force (Pluto) or over reach your goals (Jupiter). The atmosphere calms down bit on Sunday as the son leaves the fire sign of Aries and moves into Taurus. Chin up – Taurus is an earth sign, and one of the most creative and powerful signs of the zodiac. It creates an atmosphere of peaceful composure and determination to be productive and accomplish. Taurus can also be stubborn and possessive, so watch your step.
Be aware that external things such as the Corona virus cannot take away your prosperity consciousness unless you allow it. However, you may need to adjust the way you do things or expand your belief system to deal with the many outer world changes.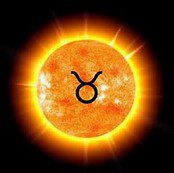 As the Sun moves through Taurus over the next few weeks it's time for spring, flowers, and to focus on creating, building and perhaps accumulating items of personal value, such as art, music, gems, gardening, redecorating to give your heart and eyes some beauty.
It is a gentle weekend under a Pisces moon. Friday has Mercury making harmony with Venus, a great combination to have relationship or money conversations. On Saturday, Mercury makes a quiet harmony to Mars, which is a great time to get out to exercise.