One of the first Decoration Days was held in Columbus, Mississippi, on April 25, 1866 by women who decorated graves of Confederate soldiers who perished in the battle at Shiloh with flowers.
On May 5, 1868, three years after the end of the Civil War, the tradition of placing flowers on veterans' graves was continued by the establishment of Decoration Day by an organization of Union veterans, the Grand Army of the Republic.
General Ulysses S. Grant presided over the first large observance, a crowd of about 5,000 people, at  Arlington National Cemetery in Virginia on May 30, 1873. The orphaned children of soldiers and sailors killed during the war placed flowers and small American flags atop both Union and Confederate graves throughout the entire cemetery.
This tradition continues to thrive in cemeteries of all sizes across the country.
Until World War I, Civil War soldiers were solely honored on this holiday. Now, all Americans who've served are observed.
At least 25 places in the North and the South claim to be the birthplace of Memorial Day. Some states that claim ownership of the origins include Illinois, Georgia, Virginia, and Pennsylvania, according to Veterans Affairs.
Despite conflicting claims, the U.S. Congress and President Lyndon Johnson declared Waterloo, New York, as the "birthplace" of Memorial Day on May 30, 1966, after Governor Nelson Rockefeller's declaration that same year. The New York community formally honored local veterans May 5, 1866 by closing businesses and lowering flags at half-staff.
What is the difference between Memorial Day and Veterans Day?
Memorial Day and Veterans Day both honor the sacrifices made by U.S. Veterans but serve different purposes.
Veterans' Day, originally called "Armistice Day," is a younger holiday established in 1926 as a way to commemorate all those who had served in the U.S. armed forces during World War I.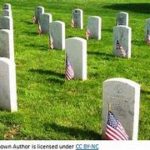 Memorial Day honors all those who've died.
Why is Memorial Day in May? 
The day that we celebrate Memorial Day is believed to be influenced by Illinois U.S. Representative John A. Logan, who was elected to the U.S. House of Representatives as a Democrat in November 1858, and served as an officer during the Mexican War.
It is said that Logan, a staunch defender of the Union, believed Memorial Day should occur when flowers are in full bloom across the country, according to the National Museum of the U.S. Army.
Congress passed an act making May 30 a holiday in the District of Columbia in 1888, according to the U.S. Congressional Research Service.
Now Memorial Day is observed as the last Monday of May, and is considered the opening day of summer.
In 2000 The National Moment of Remembrance Act – which created the White House Commission on the National Moment of Remembrance and encourages all to pause at 3 p.m. local time on Memorial Day for a minute of silence – was signed into law by Congress and the President.
STARGAZING
After the intense rollercoaster ride of the past few months, the energy comes down to a more even-keel.
Assertive Mars is in Leo all month. This supports fun, creativity and opening hearts. Hopefully it doesn't represent a start to fire season. Transforming Pluto has been giving us a preview of how its energy will be when it is fully in Aquarius when it spends 20 years in the sign of higher ideals next January.
For now, death & Rebirth Pluto moves retrograde into Capricorn on the 11th to help you finish old business since it entered Capricorn in 2008.
Saturn also turns retrograde in Pisces on the 17th. This gives you an opportunity to consider how you can bring your higher vision into manifestation.
Allow the Holiday Spirit to continue throughout the week. you singles can use Memorial Day festivities to keep an eye out for a new love interest,
No one is in the mood to work on Monday. Luckily, it's the Memorial Day Holiday celebration, so even if you must go to work, be sure to take some time to enjoy the holiday, with a picnic or barbeque.. This year the holiday has a nice, upbeat energy.
If you decide to travel for the long weekend, you will be in for some adventure so take a chance to go off the beaten path.
Be sure to keep your private life private in Wednesday, the last day of May, to avoid any office gossiping.
Don't take on too many obligations on Thursday or you could be burned out by the end of the day.
On Friday June 2nd, Venus in nurturing Cancer makes a harmonious trine to Neptune in spiritual Pisces. It's a part of a Grand Lunar Trine with the Moon in Scorpio. This is a time for powerful healing with relationships. Spend time with close family and friends or, better yet, go out on a 'date."

Wonderful etheric energies abound that feel magical. This is great for a romantic dinner that supports emotional and spiritual well-being. It will be difficult to resist falling in love, so whether single or attached, schedule a romantic rendezvous.
It should be a fun Sagittarius Full Moon on Saturday June 3rd. You may want to get out in the early evening to howl at the moon, just to be different. Talkative Mercury is aligned with friendly Uranus, so step out of your comfort zone.
At the same time, there are minor challenges between the part of you that wants to participate in the fun and the part of you that wants some private self-nurturing on Sunday. Much of this energy continues through Monday.