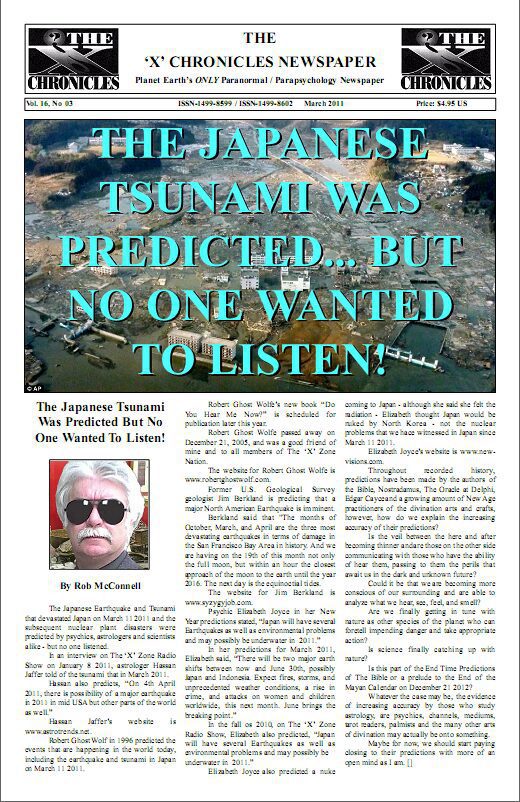 I made the FRONT Page along with other fantastic psychics.
GO TO PSYCHIC SERVICES OR
CALL 201-934-8986 to book your reading appointment.
STARGAZINGWEEKLY ELEMENT FORECAST
MARCH 21 to 27, 2011
The Air Signs
Gemini, Libra, Aquarius
The Sun leaves your financial boost area this week, and as long as you've taken advantage of your money management talents these past few weeks, it should be leaving behind well-balanced accounts and a healthy financial situation. From now on though, you're going to have to be a bit more careful, because you'll have much less support in this area! But the good news is, the Sun is entering Aires, giving a boost to your friendships and social life, bringing a breath of fresh air into your existence. With the arrival of the Moon in Libra and the Sun in Aries just opposite, you Air Signs are taking good care of yourself, and if you're in a couple, of your partner. You're spoiling your other half, and trying to spend as much time as possible with them, to strengthen your ties and deepen your relationship. Concerning love, if you're single you're in luck, because several new faces come into your life and this should enable you to meet some promising prospects. You're under the influence of the Neptune/ Venus duo and dreaming of building the perfect relationship with someone. You're in love with the very idea of love. You're sending subtly seductive glances and signals to someone who tickles your curiosity and your desire. When you see someone you like, go for it! If you're already paired up, you and your partner make a striking couple at parties and everywhere else you go in public. Life on the job is a bit calm in contrast. The atmosphere is pleasant but frankly not very constructive. On the job, Mars is keeping your energy and ambition levels high, yet in spite of your efforts and will to succeed, the opportunities for moving ahead are slim. Hang in there. Luckily, the financial situation is free of any major planetary influences. The coast is clear for doing as you please, cautiously, of course.

Your Love WeekAir Signs: Singles may feel coupled when Monday brings you close to someone with a Sun-Uranus conjunction during a Libra Moon. You get lucky as the Sun conjoins Uranus and the Moon trines Venus and Neptune. Romance is your language, and a Sagittarius Moon helps you turn up the charm if someone has doubts by Wednesday afternoon. If this person isn't your ideal life partner, check in with your dating network. But heed Friday's warnings as Mercury enters its storm and the Moon squares Mars before entering Capricorn. Even if you aren't totally committed, you could be in for a weekend of attraction and obsession. As Mercury enters its storm Friday, your judgment. May be clouded Venus makes you a creature of love on Saturday. Venus conjoins Neptune Saturday night before changing signs Sunday, putting you in the power of someone who may not care as much as you do. Sunday's Moon-Saturn square provides the sanity you might need by then! Be careful. Stay strong!
The Fire Signs
Aries, Leo, Sagittarius
The Sun changes signs this week, moving into Aries and bringing excitement to your love life. Your heart has got it's radar up, and if you're single, you're running into eligible new faces everywhere. New faces appear in your life, opening doors that had been sealed shut before. Don't neglect any of your contacts and don't hesitate to introduce yourself to people you don't know. One in particular interests you more than the rest and you're electric with excitement. Concerning love, if you're single, this tendency of course brings you luck. Keep your eyes wide open and get ready for your heart to jump in leaps and bounds. Couples, the Venus/ Neptune duo are fostering suspicious minds. It's obvious in your words and actions that you lack reciprocal confidence. A little heart to heart would do you both the world of good. If you're in a couple, the same old routine threatens to drown you both in boredom. What can you do to change that? It's up to you to make the efforts necessary to rekindle the flame. You can do it! Life on the job is uneventful too. Only the Moon at the beginning of the week manages to create a rise in activity. But it's uninspiring and only manages to tire you and sap your motivation even more. You get some news that really surprises you. But wait, couldn't that be interesting for your career? Follow the leads that come your way and see where they take you. On the financial front, Mars and the Sun in your eighth solar house ensure a steady cash inflow. Wrapping up Pluto is making you a very serious money manager. You're doing a great job budgeting and controlling your spending. Good for you!

Your Love WeekFire Signs: Follow your heart Monday when the Sun conjoins Uranus. Ask no questions Tuesday. Unless you're involved with a Gemini, Virgo, or Pisces, your lust for life remains a roaring fire when the Moon enters your sign Wednesday. Thursday's promises may prove unsustainable when Mercury trines the Moon and enters its storm Friday. Saturday Venus conjoins Neptune, and Sunday it enters Pisces. With a Moon-Jupiter square in play, you will say or do anything. Is this love or something else? If you want a romantic jump-start, Monday's Sun-Uranus conjunction and Sun-Moon quincunx can help. But watch out for Mercury. Its Wednesday Moon quincunx could indicate that your love interest needs to know you better. Don't be fooled when the Sun and Jupiter put a happy face on this, because it's easy to say or do the wrong thing once Mercury enters its storm Friday. Venus confuses things this weekend, especially if you're with Aquarius, Pisces, or Aries. Be good even if you can't be clear.
The Water Signs
Cancer, Scorpio, Pisces
The Moon in Libra at the beginning of this week wears you down. Your mood droops and you're really feeling the full brunt of the fatigue. Happily, this shouldn't last too long because on Tuesday the Sun enters Aries, to recharge you with vitality. When the Sun enters Aries, joining Uranus, Jupiter and Mercury, this spells the conclusion of an important financial transaction in your favor. Whether you obtain a loan, sell a major asset, or something else, each step you take in this domain is protected and facilitated. Your luck never deserts you. From Tuesday, you're newly efficient on the job and this is fortunate, because you've undoubtedly got a lot of work to catch up on! Things are much too calm and uneventful for your taste! If you're single, love is a desert with no oasis in sight. You start asking yourself if you'll ever run into THE ONE. Don't lose hope! The Moon in Sagittarius towards the end of the week announces some delightful and intense flirting. It's not likely to lead you anywhere, but it's fun and lifts your mood quite a bit. If you're in a couple, your partner isn't often by your side and you're having a hard time dealing with the solitude. The planets have deserted the sector governing your union. You can count on serenity and tranquility at home. There's nothing much new on the job either. You're often watching the clock, hoping that time will speed up and that your workdays will end faster. The weekend couldn't come soon enough! How are your finances; the Moon, who is very active this week, sends a little extra money comes your way around Wednesday.

Your Love WeekWater Signs:
Somebody special needs to know how you feel. That's easy Monday when the Moon enters Scorpio and trines Chiron during a Sun-Uranus conjunction. Mercury helps you understand your shared past and possible future on Tuesday. You're the hottest thing in town when the Moon is quincunx Mars, trine Neptune, and entering Scorpio. Thanks to the Sun conjunct Uranus, you're ready for anything. Somebody special needs to know how you feel. That's easy when the Moon trines Chiron during a Sun-Uranus conjunction. Mercury helps you understand your shared past and possible future on Tuesday. Pluto highlights the brilliant mind behind that pretty face. Mars dials up the passion and laughter. Wednesday shows how reasonable you can be. But this perfect version of you might crumble Friday once Mars squares the Moon and Mercury enters its storm. Mercury raises questions when it enters its storm, clouding your intuition about what the other person wants. Pluto and Neptune reflect shifting priorities and needs on Saturday. Venus conjoins Neptune Saturday night and enters Pisces Sunday. For better or worse, it looks like you're in love. Once Venus reaches Pisces Sunday, don't settle for less than you deserve.
The Earth Signs
Taurus, Virgo and Capricorn
There's a party going on when. Jupiter, Mercury and Uranus are joined by the Sun, and the result isn't so positive for your mood, nor for your luck. Save the action and excitement for later! This is a week best reserved for caution and reflection. This week your thoughts turn to your asset base and to financial matters. The Moon enters your financial area on Monday and the Sun sets up shop on Tuesday. This provides an excellent springboard for moving your projects ahead, especially if you've been playing around with the idea of investing. If you need a loan don't hesitate to ask for it, and if there's something important to negotiate, go for it. The stars are with you, and you may decide to put a little more distance between you and someone who can't seem to make up their mind. Good for you! Pluto lays your hesitation to rest. You know exactly what you want and what you don't, and you're not beating around the bush! On the job, it's best not to ask you to work wonders. Your energy and motivation are both low. The strict minimum is about all you can muster. Couples, Mars adds energy to your interactions. Your tempers are stimulated too. Your relationship is anything but boring! Miscommunication and incomprehension reigns. The communication between you is constantly off kilter. As Mercury retrogrades, the tension rises and it's almost unbearable. Your professional situation, on the other hand, risks stagnating in spite of the efforts you're putting in. Don't throw in the towel. Hang in there, things will turn around! Watch out now, because this week your financial sector is hit by thunder. You've got some unexpected expenses to deal with that throw your budget game plan off. Hang in there! Life will get better.

Your Love WeekEarth Signs:
If you look your best on Monday, a Sun-Uranus conjunction inspires certain people to look with their eyes – and hands. The person you're dating (or want to) gets one step ahead of you. As the Sun conjoins Uranus and the Moon enters Scorpio, hang on and enjoy the ride. On Wednesday you wonder if things are going too quickly. Romantic escape is favored through Wednesday, when squares with Venus and Neptune bring others into the picture. This might do wonders for your reputation on Thursday, but all bets are off as Mercury enters its storm Friday. Dates and promises become iffy for a few weeks after Mercury enters its storm. Venus conjoins Neptune Saturday and enters Pisces Sunday, turning you into a fool for love. Hopefully, the right person treats you gently. But that may be the furthest thing from your mind when Venus conjoins Neptune and enters Pisces Saturday and Sunday. It's hard not to give everything you have.