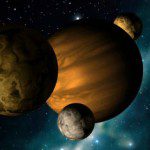 Take heart because this week, expansive Jupiter in Leo ends his retrograde cycle that started last December, so you get to start moving on projects that were stalled over the winter.
The last six months have been pulling you apart in terms of balancing your individuality and relationship needs. This lunar eclipse that just passed asks you to integrate what you have learned and decided upon since last autumn, particularly in regards to changing relationships.
Expect changes this week, and that means allowing flexibility in your lifestyle. Easter Sunday and Monday have "burn your bridges" Pluto and "let's have a revolution" Uranus tied to the energetic Aries Sun. This energy is a bit complicated because the Sun wants to pull you out into visibility as a transformer of the world, yet the moon in Scorpio tells you to be quiet and private.
A lucky break, a spirited meet-up, and an energy shift are three reasons you'll be in high gear this week. The kick-off is on Wednesday the 8th, when Jupiter ends its five-month retrograde. This is the first time that the lucky planet has been moving in a forward position this year, and this shift will bring a rise in your confidence levels. You have been deciding where your heart is engaged and where not, for several months now. It's also the start of a happier and more abundant future, a healthier economy for the planet, and you personally, and some positive stirrings in global politics.
If your birthday is in the middle of Leo, (10 to 20 degrees) this positive energy change will be especially lucky for you. Mercury is very active all week, creating a super conjunction with the Sun bringing a second shot of adrenaline that can get things going in the area of commerce, travel, and communications. You will get to communicate those decisions made last fall as well. Everyone with natal planets in Leo are activated by this, including the Pluto in Leo generation from late 1938-early 1958. As Jupiter picks up speed in the weeks ahead, you can take action based upon those decisions.
This energy combination means that diversity suddenly becomes more important than security and two of anything looks much better than one. Be careful now. With this energy pushing you forward, it's best to remember that every decision brings a consequence.
This is also flirtatious and non-committal energy. On the spiritual level, it helps you give or receive healing, and bring greater beauty into your life.
In the weeks ahead, projects put on hold over the winter get moving again. Mars entered Taurus on March 31st until May 11th, so it is a good time to make tangible gains. Bring in that cash for yourself. Also, tend to your earthly needs and desires. Taurus knows that practical matters and hard work are always required to reach your goals.