---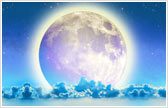 The moon is in heart-opening Leo on Monday, making it a good day to participate with heart-centered people. However, Monday night is more targeted to needs of the self. Have a quiet and private Monday evening because there is a conflict between what you have to do, and what your emotions are willing to do.
Outward bound is the theme for the week with an extended sign change for Mercury and the Full Moon in Scorpio. If you're someone who likes their messages delivered in short, quick sound bites, you're in luck. Mercury has a home and field advantage in Gemini, and this energy puts the focus on whatever is current and trendy, making communications easy, outgoing, and sociable. Although mercury in Gemini has a short attention span, a marked tendency to skim over long and involved details, they make a great pair if you want to solve a mystery, do crossword puzzles, or close a business or property deal.
A practical Virgo Moon on Tuesday and Wednesday supports hard work, especially outdoors and in the garden. The more you accomplish, the better you will feel.
By the 30th, you are ready for social interaction. The Moon moves into relationship-seeking Libra to start your weekend early. Mercury also moves into one of his favorite signs, Gemini for an unusually long time (until early July). That is because the communications planet turns retrograde on May 18th. Needless to say, get ready for the way you think and communicate to adapt to something new.
We enter the month of May on Friday and Mercury enters the shadow of its retrograde in Gemini shortly after the Full Moon on the 3rd, preparing to go retrograde on May 18th.
  Saturday is Derby Day, an enduring May tradition, and this will be the 141st Kentucky Derby. A shadowy, young filly wins the title.
On Sunday, May 3rd the Scorpio Full Moon brings the week to a rousing close with a fixed square to Jupiter in Leo. While Jupiter is the planet of good luck, this square-off combination can mean too much of a good thing. Be on the lookout for overreactions. On the other hand, it can also be the time for a one-in-a-million opportunity. Don't forget to play the lottery! If you can muster up a reasonable amount of restraint, this Full Moon can be a prime time for making cutbacks and bringing unresolved issues to completion. May could bring the end of uncertainty and extreme tension to many. It has always been one of my favorite months, the second being October.