THE ANNUAL 2014 PREDICTIONS WERE POSTED NEW YEAR'S DAY, and the monthly 2014 Predictions are posted at the first of the month. You must join our monthly subscription pages to read them. The magazine, "Psychic Visions Plus," posts monthly predictions, your monthly Numerology, Angel Guides, monthly Tarot for each Astrology sign as well as a monthly astrology forecast.
ROB MC CONNELL AND THE 'X'-ZONE RADIO/TV SHOW
Watch my weekly Stargazing Report with the X-Zone every Monday on You Tube
There will be a price increase on May 1st for my readings
– so order yours before then!
STARGAZING – YOUR WEEKLY FORECAST
Week of April 21st – April 27th, 2014
After last week you may feel like you need a nap, but there's no rest for the weary. This week, the planets will find themselves in a cosmic game of pinball, with lots of restless energies banging around.
Fortunately, the first planetary alignments will be gentle, as Venus interacts with both Jupiter and Pluto for Easter Sunday. The mood will be social and seductive — so enjoy it while it lasts!
The Moon is in Capricorn all day Monday, while Jupiter squares Uranus and opposes Pluto, (Uranus will square Pluto tomorrow, completing a T-square). Tense and restrictive circumstances that we may have tolerated in the past can reach a boiling point and feel unbearable now and in the coming days when Mars joins in. We may take on too many interests, activities, or desires, trying to escape our trapped feelings. Exaggerating our importance or power, either to ourselves or others, should be avoided. Our belief system could be challenged now, and the need for a major attitude change arises; or we might have to face narrow-mindedness in others. Trying to force our beliefs on others will only lead to frustration.
The tendency now is to push too hard in general, and to ignore the important details. Thinking in big terms is fine, as long as the more practical details of any pursuit are also considered. Venus conjuncts Chiron, bringing us to important discoveries. It's a time for building trust in relationships, and for seeing potential in one another, although the process might feel painful! Insecurities are revealed and, ideally, cleansed. A new cycle of healing in love can begin now.
On Monday, April 21st, the Sun will do its best to add some stability to the upcoming action by moving into solid, patient Taurus for four weeks. Anything the Sun can do to help ground these excitable energies will be greatly appreciated, since Jupiter also squares and opposes Uranus and Pluto. Tense and restrictive circumstances that we may have tolerated in the past can reach a boiling point and feel unbearable now You'll feel a sudden release of tension, but your overconfidence could backfire if you push too hard to get your way.
The desire to learn and grow through experiences and through others is strong, but may be hampered by a lack of confidence under this influence. A long-term aspect comes exact t this week, Uranus squares Pluto. This influence stimulates dissatisfaction with the way we've been living our lives, and with what we consider to be restrictions, whether these are internal or external ones. We may no longer be satisfied with superficial elements of our lives, humdrum routines, or situations that keep us feeling stuck, negative, tied down or locked in. Buried feelings and motives can surface now, possibly erratically.
Be aware that major changes can occur, and this awareness can help us to break out of monotony and to break bad habits as well. This is not the best time to make major commitments. Mars will further activate this square for the rest of the week.
Weather wise, we can experience tornadoes, flooding, large earthquakes, sudden storms, fires, water accidents, and sudden, unexpected storms. Look at all of the tragedies that have happened this last month! (Missing aircraft, boat overturn in South Korea, Fires, Mudslides, Mexico earthquake, abducted people and on it goes through this next week.)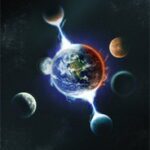 The biggest challenge will occur with the Uranus-Pluto square on Tuesday. The days surrounding this event will further erode away any old ways of doing things, while also denying you the freedom to escape from nettlesome, unnecessary obligations. Think of this episode as a test of patience, so do your best to persevere!
The fourth point of the Grand Cross moves into place on Wednesday. This energy represents death and a rebirth. Mars then comes along in an enthusiastic square to Jupiter; but again, watch your confidence levels. Since Mars will also oppose and square Uranus and Pluto, you'll want to exercise caution to mitigate ill-advised words or actions.
It's time for the world to change, to expand beyond the horizon, to mobilize your forces, and to transform your business and your life. Real Estate values take an upward swing and the education of children is enhanced.
Happily, a calming effect will also start to take hold on April 25th, when Mercury follows the Sun into fixed and stubborn Taurus. Now we prepare for next week's New Moon Eclipse in Taurus. Hurry up but take your time moves in to try your patience. Know that success is yours with a patient and disciplined approach.
We could see dangerous markets this week. If the Dow falls more than 500 points now to mid-week, I'd sell on Thursday or early Friday, when the market's bouyant.
Also, we could hear worse news about the Heartbleed computer virus as well as the Solar Flares interrupting our cell phone activity.
A clash of nations could occur or climax now, centering on Sunday (confrontation) Monday (revolt squelched, or high-tech "battle") Tuesday (warriors) and Wednesday (death). This could be why Stock markets are effected. They will readjust and balance out by November. 
In our personal lives, various problems will climax or come into sharp definition. The main themes we'll be dealing with are change, high tech, religion/life/philosophy, and hidden anger.
When Jupiter squares Uranus, we need to be willing to make changes in our lives, or change will be forced upon us by the Universe. That is always the last choice, and never much fun!
There is a rebellious, restless influence this week, one in which we should avoid making changes just for the sake of making changes. We might take some risks for the sake of freedom. Just make sure they are thought through and don't become foolish chances.
This is not a good time for financial speculation or travel. This week is a time during which we can open ourselves up to new ways of thinking. However, we could also too easily avoid taking responsibility for things that truly matter. Just stick close to home, meditate and write in your journal. Be safe — and pick up the ball after the New Moon Taurus Eclipse on the 28th. This eclipse is much more positive because the patterns create a hopeful and upbeat sign for the future.