As Venus speeds up her pace and Neptune prepares to go retrograde this week, you can expect some ups and downs.
Monday as there is a combination of a Cancer Moon on the tail of a Solar Eclipse, while Neptune is slowing down to turn retrograde Monday night. Because Neptune spends so many months retrograde (until late November this year), its changing direction often eludes people, or they just feel like sleeping in early in the week.

Neptune starts it off on Tuesday as it retrogrades for the next five months. Neptune represents illusions, fantasies, drugs, and the collective unconscious. The summer months is the time when the veil is lifted and the rose-colored glasses come off. If you're very brave you might begin to see the reality of your situation. The truth comes out all across the world, especially concerning world leaders and the virus. Also, this election will affect both National Conventions. The effects of this outer planet is impersonal, subtle, and not easy to control, much like the riots we have seen lately. Expect more of the same.
Be aware that there is an opportunity to go beyond the veils of this transitory world to tap into a higher spiritual vision for your not too distant future. It's an excellent time for meditation and receiving higher wisdom pertaining to your situation. Take the time. The results may surprise you.
 On Thursday the 24th, Venus ends her retrograde cycle (in (Gemini since May 13). During her retrograde cycle along with the COVID virus, everyone has been revising and reviewing their finances. Venus is also a relationship planet, so some people have been putting thought into which relationships can go forward or not, or feeling the need to reconnect with people that fell to the back burner during isolation.
As Venus moves forward, finances, and relationships will focus more on the present and the future rather than reflecting on the past.
Also on Thursday, the Moon enters purifying Virgo through Saturday morning. Eat healthy, do a body cleanse, clean house, put your finances in order, and get rid of clutter.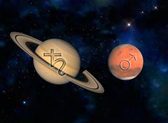 Saturday is social as the Moon moves into harmonious Libra. Also on Saturday, Mars moves into one of the warrior's favorite signs, Aries. This is a passionate sign, which puts Mars at its maximum firepower. Mars has a home advantage in Aries.
This is a prime time to initiate actions and new beginnings.
Normally, Mars spends about six weeks in a sign. Because he turns retrograde September 9-November 13, he will be passing through assertive Aries until early January. Remember, Mars is the match that lights your fire. It's time to start looking at your ambition to decide where you want to assert your energy in 2021
Sunday includes the first Quarter Moon, which challenges you to get moving on projects and ideas started at Summer Solstice. Mars makes a minor harmony to Saturn early on Sunday, making Sunday morning a good time to get up and get moving early.