SAGITTARIUS
FREEDOM — TRAVEL — TEACHING — KNOWLEDGE

The Holiday Season is upon us, as well as an early, cold winter.
AFFIRMATION
As I complete 2022 and enter the New Year, I remember that "I am safe, it's only change!"

MEDITATION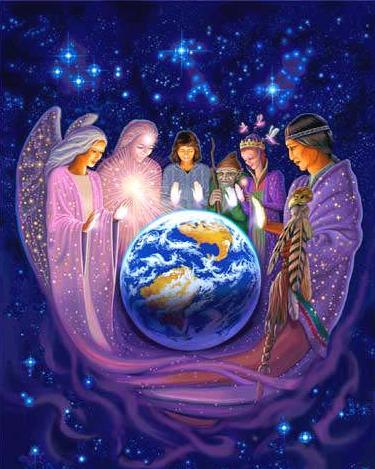 THE TRUE MEANING OF PEACE
Oh great and mighty Spirit of my Soul, there comes a time when you seek to comprehend the true meaning of PEACE, and how you as an individual may find that peace, a peace which the world can neither give you nor take from you.

This is one way. Visualize the blazing Star, still, and yet full of life and light. Identify yourself with the Star, with the center of that Star. Allow your energies to go into the still center of that Star. Within that center you will find that all the anxieties of material life, all the struggles that you encounter in daily life, will fall away from you. In the heart of the Star is deep, eternal peace, and within this peace you are united with those whom you love.
On a daily basis give yourself time to enter this Star Temple, this calming scene. Go into it, away from the noise and turmoil and tumult, the fears and anxieties of the material plane. There, within the center of this Star, find divine, holy peace. Hear within your Soul the music of the heavenly spheres, the music of the Holy Word, the audible lifestream which flows from the heart of the Creator.
Be still now, within your mind and body. Listen inwardly. Beneath all sound, beneath all thought, in the deep silence at the heart of creation, you will hear the harmony of God.
Elizabeth Joyce 12/02
May God grant me Health, Protection and Guidance.

The Sun has entered SAGITTARIUS


The sign of SAGITTARIUS is signified by the Archer or mythological Centaur and gives you cosmic relief after the ordeals of the intense Scorpio energies. An optimistic and enthusiastic demeanor sustains your one-pointed efforts and sparks a renewed sense of daring and adventure in the outside world. While your path can include sports, long-distance journeys, and philosophical inquiries, steer clear of the temptation to be a dilettante – an amateur in many fields but master of none. As you strive towards truth and wisdom, it is easy to see the universal picture but ignore practical details and then complain about hard work. The fires of this sagacious sign can entice you with illusions of greatness or turn your gaze towards clear, long-range aspirations. It is up to you to see each goal with precision, reach it, and be willing to go on to the next one.
Sagittarians have more energy than you know what to do with as the energy planets come together in your sign this month, Sag. You are full of inspiration and eagerness to act, with opportunities opening to match your ideas. Others are as excited as you are about your vision and things to come, and they are willing to lend their support. You can work on your impatience levels by using your great sense of humor to laugh at circumstances, as well as yourself. Otherwise, you could end up taking your frustrations out on others and dampening their enthusiasm for your plans. In your leadership role, it is up to you to do – to set the tone.

RUNE of the Month 
PROTECTION — Algiz
Sedge or Rushes, An Elk
Algiz is the Rune given to warn us to control our emotions. During this transit and transition in the next few months,  the shifts in your life course are accelerated self change. It is important not to collapse yourself into your emotions, the highs as well as the lows. December 2022 offers ample mental exercise and stimulation. New opportunities and challenges are typical of this Rune. With this will come trespasses and unwanted influences.
Algiz serves as a mirror for the Spiritual Warrior, the one whose battle is always within the self. The protection of the Warrior is like the curved horns of the elk, or the sedge grass, for both serve to keep open space around you. Remain mindful that timely action and correct conduct are the only true protection. If you find yourself feeling pain, observe the pain, stay with it. Don't try to protect yourself from life or pull the veil down and escape by denying what is happening. You will progress on your correct path; knowing that is your protection.
Look carefully at the associations you form at this time. Be thoughtful of your health and alert enough not to add weight to what others are carrying. If you see fit to stay involved with people who are "using you or zapping your energies," stay conscious of that fact and take responsibility for your own position; then you will always benefit. Regardless of whether your enterprises suffer, do not be concerned. You may not win all you desire, but you will never lose, for you will always learn and gain wisdom from whatever takes place. Temperance and courtesy are the sinews of this Rune's protective powers.
Don't be afraid to make the leap or take the chance.

CRYSTAL FOR DECEMBER — AMBER and TOPAZ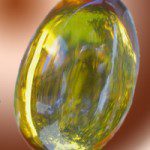 AMBER – Fossalized resin from prehistoric pine trees. Exerts a positive influence on endocrine system, spleen, heart. Healing, soothing and harmonizing. Electrically alive with solidified golden light. Stabilizes kundalini awakening. Activates altruistic nature. Spiritualizes the intellect. Creates inner peace.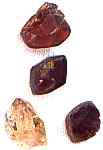 TOPAZ brings Tissue regeneration, strengthens liver, gallbladder, spleen, digestive organs, nervous system. Detoxifies body. Warming, awakening, inspiring abundance. (Blue topaz) Tissue regeneration. Strengthens thyroid gland, enhances metabolism, creating emotional balance. Cooling and soothing. Creates peace and tranquility. Brings creativity and self expression. Helps with writer's block. Enhances psychic perception. Helps with communication with your Blessed Higher Self and Spirit Guides.


From: Medicine Cards by Sams & Carson, published by Bear & Co.
ANIMAL—ELK
The Elk
Elk…
Your antlers reach for the Sun,
Show me that strength,
And stamina are one.
Elk wandered through the forest looking for a partner. The mating season was in full swing, and the bucks that usually traveled with the other males had dispersed to find mates for the season. As Elk bellowed his mating call through the forest, his bugling alerted Mountain Lion that a feast could be in the making.
Mountain Lion circled Elk, getting closer to his prey moment by moment. Elk sensed the impending danger when the forest grew suddenly silent. He broke for the high country when he spotted his pursuer, but Mountain Lion was not far behind. As Elk made a running leap for the timberline, Mountain Lion gained on him, but Elk continued to run onward, displaying tremendous stamina. Finally Mountain Lion gave up, having spent his energy in spurts, as he tried to jump over boulders to reach Elk. Elk paced himself, making headway as he climbed skyward toward the high country. Elk had no other defense except for his ability to go the distance, setting a pace that allowed him to utilize his stamina and energy to the fullest.
Elk medicine teaches that pacing yourself will increase your stamina. Elk medicine people may not be the first ones to arrive at a goal, but they always arrive without getting burned out. If you have taken on too much recently, it might be a good idea to look at how you plan to finish what you have started without ending up in the hospital.
Elk have a curious kind of warrior energy because, except at mating time, they honor the company of their own gender. They can call on the medicine of brotherhood or sisterhood. In discovering the strength which is gained from loving the gender that is your own, you will feel the comradeship that arises from the similarity of experience. This is a special medicine that allows the friendship of others of your same sex to overcome potential competition or jealousy.
Elk has arrived on the scene for December, 2022. It may be telling you to seek to company of you own gender for awhile. You may need a support group to realign yourself with the stamina of the warrior/ warrioress that you are a part of. This communication with others of your own sex allows you to air your feelings in safety and to get feedback from others who have had the same experiences. You may need a new sense of community, which brings communication in unity.
Elk could be telling you to look at how you are holding up physically to the stresses in your life, and to pace yourself so that you maintain an equilibrium of energy over the distance you plan to cover. Vitamins or high-energy foods may be one source of strength, along with some personal quiet time and meditation for replenishment. You might be forcing yourself and stretching yourself thin, like a rubber band, to the breaking point. Be careful of undue stress levels, or you might just create an illness to force you to take a very necessary break. The Winter Season brings a stress of its own, so this could be double trouble if you are not careful.
On the other hand you may not be honoring your desire for companionship with the opposite sex, and you may have forgotten the excitement of the mating season. If this is the case, you may find that your best option is to invite friends of the opposite sex over for dinner, or an afternoon outing. This is not to say that you would be sexually interested in these friends, it is merely a suggestion that an exchange of opposite energies could be rewarding.
If you are in a relationship or marriage, it may be that the "honeymoon" is waning and that you need to stir up some excitement. Persistently creating a "change of pace" is the kind of stamina needed for any relationship to last.
In all cases, Elk is telling you to look at how you choose to create your present pathway, and how you intend to perpetuate it to reach your goal. Your best weapon is the same as Elk's. Stop when you need to, persist when you need to, and allow room for change and the exchange of energies.


This has always been the section for Healing Requests. Through the power of group prayers, healing take place spontaneously. You can be of help to many others, as well as your loved ones, with one minute of silence at 7:30 pm EST every Sunday evening anywhere in the world. With a prayer for the recovery of health, universal energy is sent out to any and all who send in their prayer request. What is needed is the name and birth date of the ill person, along with a diagnosis, if possible. What are you asking to be lifted? When you place your request in the Healing Circle of Light—located in our Prayer Room; know that as soon as you make your Prayer request and Healing request, you will begin to see positive results!
(We have had thousands of responses. Keep the Prayers going for all concerned!)

STARGAZING FOR SAGITTARIUS 2022
Discover the secrets of your Astrological Sun Sign, Moon Sign and Rising Sign
and read them all together, for monthly guidance and direction.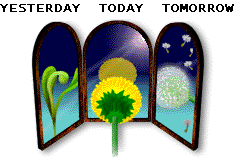 SAGITTARIUS
The Dec. 7th Full Moon in Gemini brings a conjunction with Mars retrograde, stirring up some anger, resentment, and feelings of revenge with past hurts. Best to leave the past in the past. The window for healing of these issues has closed. 
The Dec. 23rd New Moon in Capricorn brings a square with Jupiter and you may have bit off more than you can chew. You may need to buy a few more Christmas gifts and still shop for Christmas dinner. Take a deep breath and relax if you want to get it all done.
Mars is retrograde beginning October 30th through January 12th, 2023
Mercury retrogrades on December 29th, 2022
SAGITTARIUS:
Polarity: Masculine
Sign: Mutable
Element: Fire
Ruling Planet: Jupiter
Body:  Hips, Thighs
Color:  Purple
FOCUS: Words to live by in 2023 – Moderation, Moderation, Moderation,
Meditation, Meditation, Meditation.

THE PERSONAL SIGNS

Aries (3/21 – 4/20)
As December opens, the upbeat energies give you a boost. Connections with the executive team at your workplace bring you several invitations to Holiday Parties and gatherings.
Taurus (4/21-5/21)
December brings plans for travel during Holiday week to visit family and those you love. Keep you eye on your credit card spending and be careful on the 29th when Mercury retrogrades again.
Gemini (5/21-6/20)
December brings sharing your Spirit and party invites arrive early this year. Your generosity includes donating time helping at soup kitchens and funding the community food bank. Be careful at the Full Moon in Gemini on Dec. 7th when it will conjunct Mars. Watch out for out of control people and drunk drivers. Some unusual financial gifts may come your way. Be frugal

Cancer (6/21-7/22)
December brings a festive mood to the air that you wish could last all year. You are able to wrap up all your work responsibilities by mid-month. Neptune turns direct and brings the green light for some New Year's travel plans. Someone new joins in the plans and brings spontaneity to the scene for everyone.
Leo (7/23-8/22)
December brings holiday enthusiasm as you welcome others to join you for a special holiday lunch, party, or cocktails. Relatives from a distance finalize plans for thei r Holiday arrival. You plan to spoil and pamper your significant other at month's end.
Virgo (8/23-9/22)
In December you are determined to fill your days with festive and cherished memories. You donate your money and time to the local soup kitchen and food bank. Watch  out for the other drivers on the 29th when Mercury retrogrades.

Libra (9/23-10/22)
December brings you a happy, festive start into the Holiday season. Plan for New Years travel. Invitations roll in and you'll have a busy calendar. You love to decorate your home, and the outside looks spectacular! A health matter is of concern for an older family mater, and you attend medical discussions. Have your annual physical before the year ends.
Scorpio (10/ 23-11/22)
In December prosperity comes your way as you plan to shop for the Holiday and get some gifts; a generous bonus arrives. Mercury retrogrades on the 29th delaying your New Years guests.

Sagittarius (11/23-12/21)
December brings Holiday parties stimulating your Holiday Spirit. You lead by example when you shop, buy groceries, and pick up medical supplies for those less fortunate. Gratitude fills the air; the true Holiday Spirit. Avoid the company of angry people or drinkers on New Years Eve.

Capricorn (12/22-1/19)
December brings dilemmas behind the scenes for your Holiday plans. You show concern for those less fortunate by donating to a fundraiser. Plan with other family members for desired Holiday activities and entertainment. Local travel is favored. Wait until 2023 to schedule any regular doctor check-ups.
Aquarius (1/20-2/18)
As December opens, you know that the Universe has been working overtime to give you a happy holiday season. Coordinate a party for a neighborhood shelter, providing food, bedding, and gifts. Avoid booking or beginning a trip on the 29th when Mercury retrogrades.

Pisces (2/19-3/20)
Make December a special and memorable Holiday month that delights everyone. Recreate special traditions like reading, "Twas' The Night Before Christmas," or singing carols Christmas Eve. Give some time at your community center and bring the children, to share the Holiday Spirit with those in need. If good fortune smiled on your health and your checkbook this year; smile with gratitude. Take time to reflect on New Year's Eve, then plan for 2023 on New Years Day,
 ©2022 Visions of Reality
All Rights Reserved