---
On Monday, the Moon is Sagittarius combined with Jupiter opposite Uranus promises to be a wild day. This electric combination happens once every fourteen years. While this can signify that uncertainty and change are on the rise, it also brings us the energy of hope that in the end everything will be alright. Simply trust the Universe.
Sagittarius believes in doing it big, so watch the budget if shopping on the 26th. Jupiter has been building to opposition with Uranus since the Presidential elections. Uranus is "expect the unexpected" and Jupiter believes that bigger is better. Consider where you need more freedom and innovation in your life, as neither of these planets is happy when trapped in a closed environment.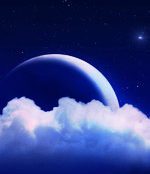 The New Moon at 8 degrees Capricorn is on the evening of December 28th. The sun is also aligned with Mercury, representing the halfway point of the current Mercury retrograde cycle started back on Dec. 19th. With Mercury retrograde, this New Moon is also home to an inferior conjunction, which is a final reminder to take stock of this past year and decide what to take with you into 2017.
There are two clusters of planets in very different signs. Mars aligns with Neptune in dreamy Pisces. This is great for psychics and visionaries, but particularly bad for driving under the influence of alcohol or drugs. You receive help in combining your ambition and your vision for the New Year.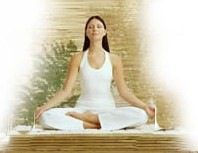 At the same time, there is a strong, practical Capricorn influence telling you to be sensible. If you can find a way to bring the intuitive vision together with mundane application of that higher vision, no one will get in your way in the coming month. However, in Pisces energy, it is also normal to float around as a space cadet, while waiting for your vision to come to you. Help it come to you through meditation or introspective reflection, but don't try to force it.
Uranus is waking up from it's five month nap on Thursday, the 29th. 2016 could end up with an unexpected surprise. This energy harmonizes with an ongoing trifecta challenge, because for the past two months Uranus has been shaking up your reality, Jupiter pushing you to transform your belief systems, and Pluto asking you to "Let go and Let God." The combination of the three planets is re-balancing your relationships, time for your Self, and the need to be in your power. Initially, this is a complicated mix, but you will be much stronger when you figure out how to get these energies to work together."
As Uranus ends his retrograde cycle, you may have trouble sleeping, or just have weird dreams. These Uranus surprises could be weird weather patterns, political uprisings and scandals, along with other unsettling events. In the weeks ahead, this shift helps you open to innovative concepts, new technology, while exploring new friends and organizations.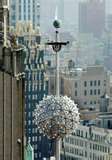 The moon moves into Aquarius on Friday and through New Year's Eve. This continues the social energy of most of December, asking you to reach out beyond your comfort zone. On New Year's Eve, Mars exactly aligns with Neptune. Avoid excessive alcohol or drugs all week under this combination. Bringing forth your spiritual warrior is a good thing for ambitious Mars and psychic Neptune. However, it can also represent a part of you that wants to stay up for the New Year and a part of you that just wants to go to sleep and put the old year behind you.
New Year's Eve with its friendly Aquarius moon, brings us the last aspect of the year, a timely conjunction between Mars and Neptune in Pisces. This watery bond can manifest with the urge to drown your sorrows in liquid refreshment at a New Year's Eve celebration; or it could indicate that the two most important liquids in our lives, water and oil, will be big in next year's headlines.

Bells have often been important with the celebration on New Year's Eve, as we hear "ring out the old, and ring in the new." However, the original purpose of the bells was not just to make noise. The traditional expression comes from "the passing of the bell," which was rung when someone died. Not, as you might think, to announce the person's death, but to remove and banish any evil spirits that might be lingering around preventing the Soul from reaching the Light and peace in the next world.
From this ancient belief came the ringing of the bells on New Year's Eve, the time when the old year mysteriously passes into the new one, so the tolling would neutralize negative energies from the past year and guarantee a clean slate for the new one.
The New Year begins with Mercury retrograde in Capricorn and Sagittarius through January 8th. That makes the first week of the month excellent for getting in touch with your plan for the coming year. It is also the time when the "counting of the votes" occurs in congress, on January 6th. Expect lost of surprises, loud talk, and arguments, along with a possible surprise at just who the next president of the United States may be. Someone you might never expect.
In mid-January the "Year of the Monkey" leaves us as we begin the "Year of the Rooster." The Monkey knocked us for a loop and the Rooster comes in to crow about it. However, relationship planets Venus and Mars will be in Pisces most of the month, so there is a gentle, calmer tone to start the year.
The bells have rung to say that 2016 is over and done. May 2017 be filled with clear skies, especially weather wise, and where there is darkness, may the stars light your way.