Your Personal Year and Your Personal Month's Message 2023
Numerology is the concept that all of life, known and unknown, is shaped by vibration and a specific creative moment of universal energy. As this energy moves and flows, it takes the shape of the wind, the sun, the ocean, the dove and all physical embodiments. From this flow and the energies describing it, you can interpret a life direction for your own individuality. You can see your purpose, your goals and your obligations. Your name and your date of birth represents a chemical formula which directs your Karmic Pathway represents completion, not new beginnings. You can gain a lot of information pertaining to your lover, your parents, your children, your in-laws, your boss, etc. by learning these numerology cycles.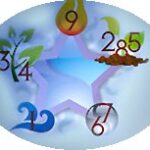 Your Personal Month: Your Personal Month pertains to the year you are living in from January to December, Regardless of the month and day of your birth. We each have a monthly vibration as well as yearly cycles. So, first find your Yearly Cycle number, then read the monthly vibration for that yearly cycle. Calendar – Months Numbers: January…. -1, February….-2, March…….-3, April…….-4, May………-5, June……..-6, July……..-7, August……-8, September…-9, October…..10=1, November….11=2, December….12=3
How to Figure Your Personal Year for Monthly readings: To find your yearly cycle: add the Personal Year Number, which is #7 for 2023, to the Calendar month and birthday. You will be surprised and astonished as to how this will reveal what you are doing and what you will need to do during the current month.
EXAMPLE: March 16 Birthday = 3 + 7 (= 10=1)
(Then add the year – 2023 = 7, then the year plus your birthday number