Newsletter — Cancer 2012

AFFIRMATION
People are my foundation, but strength come from within.
MEDITATION
The Life That Makes All Things New
As you accept with patience and surrender the difficulties you encounter throughout life on a daily basis, so will you find flowing into you through the Crown Chakra, a light or life-force which will remove all anxiety and pain, making each day a new experience. This comes to each one of us gently, slowly, as we open ourselves from within to the gifts of Spirit. Occasionally you will become aware of a glow within your heart, or of a light feeling, and you will become aware of the harmony which is shaping your life right now through the power of the Divine.
If you direct the right thoughts to those around you, and begin to put the action of the Law of Love in front of any circumstances you may find yourself in, you will find that these troubles and upsets will gradually smooth themselves out. Events will begin to work more harmoniously for you and you will begin to feel, "God is very good to me." You will begin to realize that within you, as you practice your daily meditations, there is a power building, a feeling of Love, which is helping you actively. This will guide you towards the desired balance of Love, Peace and Harmony within your heart.
This glow within your heart which brings to you such sweet happiness and joy may remain for a few minutes, a few hours, or a few days, and then may disappear. Never fear for slowly this power and gratitude will increase in you. As your life continues, you will experience this renewing energy more often, for you are Ascending up a spiral of light and vibration which will eventually bring you, as a Daughter or Son of God, into the kingdom of eternal light and bliss.

Think of Ammachi, and meditate on the yellow golden rose, the flower of God. You are looking at this rose from afar, as something outside of you. But it is within your heart, as is Amma, always! The petals of this divine rose are slowly opening as you chant your mantras to Amma, opening to receive the golden warmth of sunshine and power from above. There is a light within the heart as well music coming to you from the rose. The light from above and the light from the rose blend as one…as you swoon into the bliss of Divine Love.
May God grant me Health, Protection and Guidance.
The Sun has entered CANCER
Cancer, the first water sign, is the phase for personality integration and building an inspired home base in the world. Take the fiery independence of Aries, the fierce dedication of Taurus, the effervescent thinking of Gemini and weave them into a firm foundation for individual fulfillment. Represented by the armored Crab and the agile Cat, this sign reminds you to be shrewd and tenacious and to keep clawing your way to success. Old memories, a sense of history and family heritage provide a solid background for you to face the future with confidence. As you dispel the clouds of moodiness and emotional vulnerability, trust your feelings and your decision-making process and watch your psychic sensitivity grow in the process. A maternal, nurturing manner can be a comforting gift to relatives and colleagues over the Independence Holiday weekend.
From: Medicine Cards by Sams & Carson, published by Bear & Co.
ANIMAL—The Raven – Magic
Raven
Black at pitch,
Mystical as the Moon,
Speak to me of Magic,
I will fly with you soon.
Throughout time, Raven has carried the medicine of magic. This has been true in many cultures across the planet. It is sacred in the ways of the Shamen to honor the Raven as the bringer of Knowledge, Wisdom and Magic. If the knowledge brings sadness or bad medicine, then the honor comes from fear rather than respect. Those who fear Raven may do so because they have been working and investigating metaphysical areas in which they should not have, without proper training. A spell they have cast may have backfired on them! Rather than analyze the darker side of sorcery, realize that you will fear the Raven only if you need to learn about your inner fears, superstitions and your self-created demons.
Raven's magic is a very powerful medicine that can bring to you the courage to enter the darkness of the void, which is the home of that which is not yet in form and the beginning of learning manifestation. The void is called the Great Mystery. Great Mystery existed before anything came into form. Great Spirit lives inside this void and emerged from Great Mystery. The Raven is the messenger from the void. It's cry and message represents Natural Law.
During the month of July—in the time of emotional Cancer—you are about to experience a change in consciousness. This may involve walking inside the Great Mystery on another path at the edge of time. It would portend of a signal brought to you by Raven that says, "You have earned the right to see and experience more of life's wonderful magic." Raven's color – Black – is the color of the void – that black hole in space that holds all of the energies of the creative source.
In the teachings of the Shaman, the color black means many things, but it does not mean evil. Black can mean the seeking of answers, the energies of the void, the road of the spiritual or non-physical. The blue-black color of the Raven contains an iridescence that speaks of the magic of darkness, and a changeability of form and shape that brings an awakening in the process.
Raven is the guardian of ceremonial magic and absent healing. In any healing circle, Raven is present. Raven guides the magic of healing and the change of consciousness that will bring about a new reality and dispel "dis-ease" or illness of mind, body and spirit. Raven brings in the new state of wellness with balance and perfection from the Void of Great Mystery and the Field of Plenty.

Raven is the messenger that carries all energy flows of ceremonial magic between the ceremony itself and its intended destination. For instance, if a ceremony is being performed to send energy to a disaster area where people need courage and strength, Raven would be the carrier of that energy flow. The intention would be to allow the people of the devastated area to feel the concern and support of the participants in the ceremony.
Raven has chosen to come to us at this time of a significant change of energy, July 2012. Do not try to figure this out, for you cannot! It is simply the power of the unknown at work, and something special is about to happen. The deeper mystery, however, is how you will respond to the sparkling synchronicity of this alchemical moment. Will you recognize it and use it to further enhance your spiritual growth? Can you accept it as a gift from the Great Spirit? Or will you doubt it, limit it and the powers of the Great Mystery by trying to explain it away?
It may be time to call on the Raven as a courier to carry an intention, some energy healing, a thought or a message to an estranged loved one. Raven is the patron of smoke signals or Spirit messages represented by smoke. So, if you want to send a message or prayer to the Blue Road of Spirit, in order to contact the Ancients and their knowledge, call on Raven. Or, who knows, perhaps the Ancients are calling out to you.
Remember—whatever happens for you personally—this magic moment came from the void of darkness, and the challenge is for you to bring it into the light. In doing so, you will have honored the magic within each one of us.
JULY CRYSTAL: Ruby—Bloodstone
RUBY: Aids in regeneration of the physical/spiritual heart. Is the 4th crystal in the seven lines of the Chakras. Enhances circulation and the life-force. Vitalizes blood and the entire mind/body/spirit system. Strengthens the immune system. Activates dormant conditions on the physical and spiritual levels. Refines lower passions. Helps to banish a sense of limitation and strengthens self-esteem. Creates courage, integrity, selfless service, joy, spiritual devotion, power and leadership.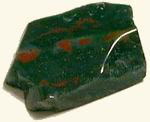 BLOODSTONE Strengthens and oxygenates bloodstream. Enhances physical/mental vitality. Strengthens the heart, spleen, bone marrow. Aids in balancing iron deficiencies. Reduces mental/emotional stress. Powerful physical healer. Stimulates movement of the kundalini. Links the Root Chakra with the Heart Center bringing inner guidance, altruism, idealism. A highly evolved crystal gem.
RUNE of the Month—Othila
Retreat-Seperation-Inheritance
Othila represents real property, acquisition and benefits. It seems strange to say, but the benefits you receive, the inheritance may be derived from something you must give up. This can be particularly difficult when that which you are called upon to give up or abandon is part of your background and your cultural inheritance. For then you must look closely at what, until now, you have proudly claimed as your birthright. Whether it is your attachment to your position in society, to the work you do or even the beliefs about your own nature, the separation called for now will free you to become more truly who you are.
Othila is the Rune of the separating of paths. Old skins must be shed, outmoded relationships discarded. This Rune has appeared in the Cancer energies for July 2012,  the month after two important Eclipses – and a peeling away is now called for. This is the Rune of radical service!
The proper action here is submission, and, quite probably, retreat. Retreat in the sense of reserve in your conduct; for knowing when to leave may be the smartest thing that anyone can learn. Know when to retreat and have the firmness of character to carry it out.
Take pains not to be mechanical or unaware of what is happening around you. This is not a time to be bound by old conditions and old authority. When going through changes, release and letting go, ask yourself what feels right for you and act according to the Light and inner direction you possess now in your life. Because you may be called upon to undertake a radical departure from old ways, total honesty is required. Otherwise, through negligence or refusal to see clearly, you may cause pain to others as well as damage to yourself.
Not rigidity but flow is the proper attitude at this time. And yet you must wait for the Universe to act. Othila, March's Rune, reminds us that we do without doing, and everything gets done.
Don't be afraid to make the leap or take the chance.
This has always been the section for Healing Requests. Through the power of group prayers, healing take place spontaneously. You can be of help to many others, as well as your loved ones, with one minute of silence at 7:30 pm EST every Sunday evening anywhere in the world. With a prayer for the recovery of health, universal energy is sent out to any and all who send in their prayer request. What is needed is the name and birth date of the ill person, along with a diagnosis, if possible. What are you asking to be lifted? When you place your request in the Healing Circle of Light—located in our Prayer Room; know that as soon as you make your Prayer request and Healing request, you will begin to see positive results!
(We have had thousands of responses. Keep the Prayers going for all concerned!)

STARGAZING FOR CANCER 2012
Discover the secrets of your Astrological Sun Sign, Moon Sign and Rising Sign
and read them all together, for monthly guidance and direction.
CANCER
The July 3rd Full Moon in Capricorn brings a time for good, serious thinking. This Moon brings out the dutiful, cautious, and pessimistic side of us. Our goals for the future become all-important!
The July 19th New Moon in Cancer brings the beginning of Ramaden. This is a good time to start something which is a part of a project already begun. Although the Cazimi Moon is powerful, it does not outweigh the fact that Mercury is retrograde.
Mercury is retrograde from July 15th through August 7th, 2012
THE PERSONAL SIGNS
A summer vacation spent at home might be more appealing this year, especially since you'll be in the mood to tackle your to-do list. Just don't invest a lot of money on furnishing and décor while Mercury is retrograde.
Luck is with you as you make favorable connections at work in July. You could stumble upon a favorable find around the 21st. Browse consignment and thrift shops and look around you home for a favorite collection that may have gained in value over the years.
Gemini (5/21-6/20)
Good fortune is on your side in July, Gemini. Venus and Jupiter have moved into your sign and will bring you some much needed help just in time. The 5th, 6th, and 20th bring opportunities through a friend or group, as well as some valuable advice. Do yourself a favor and listen.
Cancer (6/21-7/22)
July begins the beginning of your new solar year, Cancer. Use it to set next year's ambitions and focus on home life. You could re-locate before the end of 2012, or make a journey to learn more about ancestors and your genealogical roots. Relationship discussions bring a chance to resolve pertinent issues.
Leo (7/23-8/22)
July brings a time for you to slow the pace down and listen to your inner voice, especially since Mercury retrogrades. You'll especially appreciate the time to relax and catch up on sleep after the busy days of late June and early July.
Virgo (8/23-9/22)
When your ruling planet, Mercury, retrogrades in July it will be different than usual. This energy will boost your intuition and be an asset if you need to research information. Dreams could also be insightful, so put a pen and pad by your bedside to jot down dreams and ideas floating around at night.
Libra (9/23-10/22)
July brings the perfect time to take off a few days and delight in a long weekend with your partner. Romance and fresh scenery go together. Expect a few pleasant surprises as well as the ones you are planning. Mercury retrograde could trigger the need for domestic repairs for an elderly relative.
Scorpio (10/ 23-11/22)
Luck and money arrive for you again in July, Scorpio. You or your mate could gain through a raise or added benefits, which will come in handy as some unexpected expenses could arrive as well. The 21st is an especially lucky day for you Scorpios.
Sagittarius (11/23-12/21)
July highlights love, romance, togetherness and couples. If you're single, a new romantic interest could appear at the least expected time — around the 5th or 20th. Be sure to allow things to progress at their own pace, because the relationship may or may not last.
Capricorn (12/22-1/19)
Your work life continues to be upbeat in July, Capricorn. Co-workers will be helpful and friendly, and you'll feel like you're making solid progress on projects. Double-check details thoroughly while Mercury is retrograde.
 Aquarius (1/20-2/18)
July is a good month to visit cousins and siblings and to get better acquainted with neighbors. Among them could be someone who becomes a lifelong friend and/or will connect you with an opportunity. Consider getting involved with a project that will better your community. !
 Pisces (2/19-3/20)
The Universe offers you a perfect stress reliever in July, Pisces. Take advantage to relax and unwind at the end of the day at this favorable time. If you feel ambitious, use your creativity to re-do a room on a budget. If you want to entertain, the 7th is a good day.
©2012 Visions of Reality
All Rights Reserved