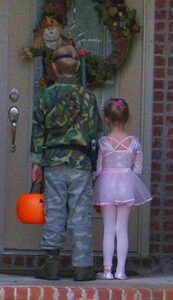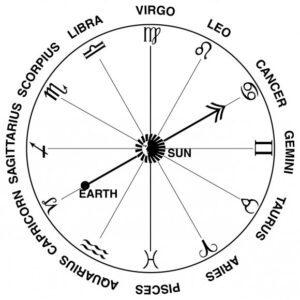 Aries pushes the others aside to get to the door first, with the largest trick/treat bag.
Taurus will only eat the finest of Swiss chocolates, and loves to get money.
Gemini goes around the neighborhood once, changes costumes and goes around again.
Cancer stays at home and gives candy to the other trick-or-treaters.
Leo plans their costume for months, then won't go out because someone else had the same idea.
Virgo wears a neatly-pressed suit and tells everyone they're a banker.
Libra is still standing in front of the closet trying to decide on a costume.
Scorpio isn't in it for the candy, only for the money.
Sagittarius forgets which house they've been to, or will manage to wander to the next town.
Capricorn makes a list of all the houses that give good candy and the most direct route to take.
Aquarius builds their space suit costume out of spare flashlights and spends all night tinkering when it shorts.
Pisces is a witch and convinced their broomstick can fly to the Moon or Mars.

For your Personal Karma Report
with your Personal Astrology Chart
Contact Visions of Reality
Elizabeth Joyce
P.O. Box 277
Chalfont, PA 18914
215-996-0646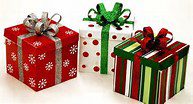 Makes a great Christmas Gift

All Text Copyright 2016 by Elizabeth Joyce; Visions Of Reality