Newsletter – CAPRICORN 2019
AFFIRMATION
Knowledge is my pathway and brings freedom and success.
MEDITATION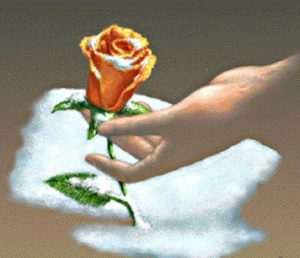 Now withdraw into the rose center of your heart. Meditate on the perfect rose. The rose of twelve petals lies at the temple of your heart. It's petals are opening to the sun – every petal gleaming and glowing with the light. There is an ineffable Light in the heart of the rose.
Become enfolded within these petals, in a soft pearly light. You are within the temple of the rose, the Sun pours down into the heart—opening up the doorway to all empowering, unconditional Love. You are a part of this radiance and one with all of humanity, within the heart of the ROSE.
Allow the light from the Masters show how to live divinely and to rise above the dualities of this world and find peace within. Become a giver of peace and love to others. By dwelling on these higher energies and striving to emulate the qualities expressed, you will open your heart to absorb more deeply the Spirit manifested in all God-united souls. Let the strength that upholds the Universe filled your being filling you with everlasting love. Smell the fragrance emitting from the center of the rose and fill yourself up with the radiance of the Universe.
May God grant me Health, Protection, and Guidance.

The Sun has entered CAPRICORN
The sign of CAPRICORN in many ways, is the most misunderstood and mysterious sign of the zodiac. Following the Winter Solstice and the full moon closeness to the earth, you can reach the summit of material achievements or suffer the pangs of martyrism. As your mind opens to spiritual laws and teachings, apply what you learn in a pragmatic and businesslike manner and sidestep the isolation that afflicts many born under the earth sign signified by the determined Goat and the legendary Unicorn. Keep on relentlessly moving up your private mountaintop to worldly prominence. While conservative work methods are the golden rule, don't get trapped in a crystalized lifestyle that prevents flexibility and invites emotional rigidity. When you take command of the dynamic thinking process and concentrate on objectives with clarity, executive leadership will crown your valiant efforts.
(This information goes for CAPRICORN Sun Sign – Moon Sign
as well as the Rising Sign.)
Based on the Rune (OPENING) and Animal (MOUSE) chosen as the vibration for the December/January 2019 brings: strong winds and severe winter weather, more earthquakes and a strong flu season.
From: Medicine Cards by Sams & Carson, published by Bear & Co.
ANIMAL: THE MOUSE
Mouse — SCRUTINY
Mouse
If I could see the world
Through your tiny eyes,
Maybe then I could know
How to scrutinize.
Energy detail carries weight
And true to its purpose,
Has its perfect puzzle place
To stop this "three ring circus!"
Mouse says, "I will touch everything with my whiskers in order to know it." Paradoxically, this is both a great power and a great weakness. It is good medicine to see up close and to pay attention to detail. It is bad medicine to chew everything into little pieces.
Mouse has many predatory enemies, including birds, snakes, and cats. Mouse is food for many, so it has a highly developed sense of danger at every turn. So-called civilization is a highly complex set of components which calls for more and more highly organized skills and scrutiny every year. Mouse is a powerful medicine to have in these times. Things that may appear insignificant to others take on enormous importance to Mouse.
Mouse people will frustrate and anger many others at times because they appear to be nit-pickers. Mouse people will spot the lint on someone's skirt, even if it matches in color. They will try to convince you that the simplest task is fraught with difficulty. They are fixated on methodology. They sort, categorize, and file away information for further use. They may seem like they are hoarding, but this is the farthest thing from Mouse's mind. They are merely putting everything in order so they can explore things more carefully at a later date.
The Shaman Chief tells us that without Mouse, there would be no system or organization of knowledge. Mouse knowledge ended the Renaissance Man and awakened the age of specialization. Mouse knew from the very beginning that "there is always more to learn." One can always delve deeper, and deeper, and deeper.
January, 2019, has brought to us the medicine of Mouse. You may be fearful of life but very well organized, with a compartment for everything. You should try to see a larger picture than the one that is staring you in the face. Develop a largeness of Spirit. Try to become aware of the winds of change, the rain, the sun, and the great dance of life. Realize that even though you may live in Austin, TX there is also New York. There is a moon, a solar system, a galaxy, and an infinite Universe. Jump high, little friend, and you may see the Sacred Mountain.
January and the time of Capricorn is telling you to scrutinize. Look at yourself and others carefully. Maybe that big hunk of cheese is sitting on a spring awaiting a deadly trap! Perhaps the cat is in the pantry waiting just for you. Maybe someone to whom you have delegated authority, such as a doctor, lawyer, or the plumber, is not doing the job faithfully. This message from Mouse is to see exactly what is in front of your eyes, and then, act accordingly.
JANUARY CRYSTAL:  GARNET and ROSE QUARTZ

GARNET:  Strengthens, purifies, vitalizes and regenerates bodily systems, especially the bloodstream. Has strong connection with the Root Chakra. Balances hemispheres of the brain. Aids in tissue regeneration. Attracts positive energies into the Aura. Amplifies thought forms. Aids with your personal illumination. Solar energy, male aspect. Brings you self esteem, inner strength and stability.

ROSE QUARTZ:    Aids the kidneys and circulatory system. Has a strong connection to the Heart Chakra. Increases fertility. Eases sexual and emotional imbalances. Helps clear away stored up energies of anger, guilt, fear, resentment, jealousy. Cools a hot temper. Reduces stress and tensions in the body. Helps to bring in forgiveness and compassion. Absorbs "Love Thoughts" and transmits them back to you with a higher purification. Known as the Love Stone.
RUNE of the Month—KANO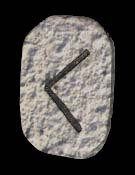 KANO–Opening – Fire – Torch
OPENING — renewed clarity – receive higher knowledge
This is the Rune of opening up, of renewed clarity, of dispelling darkness that has been shrouding some part of your life. You are free now to receive, and to know the joy of non-attached giving.
Kano is the Rune of the morning of activities, of seriousness, clarity and concentration, all of which are essential at the beginning of work. The protection offered by this Rune is that the more light you have, the more you practice your spiritual meditations, the better you can see what is trivial and outmoded in your personal life, stemming from your childhood  pre-conditioning.
In relationships, there can be a mutual opening up. You may serve as the trigger, the timekeeper, through your awareness, that the light of understanding is once again available to you both.
Recognize that, while on the one hand you are limited and dependent, on the other you exist at the perfect center where the harmonious and beneficent forces of the universe merge and radiate.  You are that center.  Simply put, if you have been operating in the dark, there is now enough light to see that the patient on the operating table is yourself!
In this time of the Capricorn energies 2019 – one can expect a darkening of the  light in some situation or relationship. A friendship may be dying, a partnership or marriage, some aspect of yourself or your work, an old way of being needs to be let go of, because it is no longer proper or valid for you. You are being asked to recognize that failure for you to face up to this death consciously would constitute a loss of opportunity. Kano is one of the Cycle Runes, and it can point to an inner death of a way of living,  because it has been now invalidated through your personal spiritual growth.
So be prepared and willing to give up gladly the old, and to live for a while feeling empty. Spirit cannot enter a vessel that is full and running over. Wait! Have patience! Develop your inner stability, not allowing yourself to be seduced by the momentum of old ways, but instead, wait for the new.  Know in your heart at all times that the NEW will become illuminated in its proper time.
Don't be afraid to make the leap or take the chance.

This has always been the section for Healing Requests. Through the power of group prayers, healing take place spontaneously. You can be of help to many others, as well as your loved ones, with one minute of silence at 7:30 pm EST every Sunday evening anywhere in the world. With a prayer for the recovery of health, universal energy is sent out to any and all who send in their prayer request. What is needed is the name and birth date of the ill person, along with a diagnosis, if possible. What are you asking to be lifted? When you place your request in the Healing Circle of Light—located in our Prayer Room, – know that as soon as you make your Prayer request and Healing request – you will begin to see positive results!
(We have had thousands of responses. Keep the Prayers going for all concerned!)
STARGAZING FOR JANUARY 2019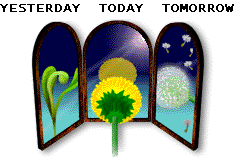 Discover the secrets of your Astrological Sun Sign, Moon Sign and Rising Sign
and read them all together, for monthly guidance and direction.
CAPRICORN
The January 5th New Moon in Capricorn brings a Solar Eclipse. It reflects a dark and quiet time to plant new seeds for your future. This eclipse conjuncts Saturn and Pluto creating a few stop signs; stop everything, go within and begin to reflect on your past and not be so anxious about the future. What do you have to say good-bye to before you can begin anew?
The January 20th Full Moon in Leo brings us a Lunar Eclipse. We move into the Aquarius energies at the same time of this eclipse, signaling it's time to go within and use your subconscious mind to manifest your projects. This is a Supermoon in Leo and is larger than usual. This is rare because the first three Full Moons in 2019 are at 0 degrees of their sign. This unusual activity signals that something new is coming our way.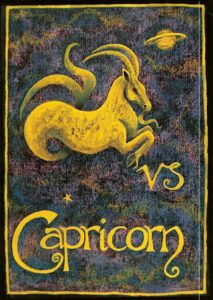 CAPRICORN —
Elements:  Earth
Quality: Cardinal
Polarity:  Feminine
Planetary Ruler:  Saturn/2nd House
Body: Knees, bones
Focus:  I use

The Sun has entered CAPRICORN
THE PERSONAL SIGNS

 Aries (3/21 – 4/20)
The New Year brings you fun and activity, so you won't get much rest because your engines are in high gear. Be sure to take some breaks or burn out can occur just when you will need to be very active; after January 20th. Don't overextend yourself or you won't be able to keep your appointments, which could upset some important people. Time to get serious Aries, and be accountable.
Taurus (4/21-5/21)
You are feeling restless as the New Year opens, Taurus. Something isn't sitting right in your consciousness bringing the inability to focus, get much done, and to feel at home in your own skin. Don't resist this turbulent change energy, because that will only amplify what is already a challenge. People talk to you but you cannot hear them because of the protective bubble you have wrapped around yourself. Don't allow anything to interfere with that gut feeling that you need to make some emotional changes in your life.
Gemini (5/21-6/20)
2019 opens with a time for quiet reflection. You are trying to process a stream of energy coming from deep within. This is causing you to take stock of your life in ways you never dreamed of. What a big surprise! It's necessary for your inner growth and it's just the beginning of a year-long process. You are feeling dissatisfied with what you perceive your future to be. Refrain from doing anything now. The timing couldn't be worse. Allow yourself to delve into these emotions to find out what's beneath them.

Cancer (6/21-7/22)
You will be the most affected by the two powerful eclipses in January, Cancer. They amplify issues connected with self-love versus your love for others. Although it is natural for you to attend to the needs of others, the relationship more important to you this month is the relationship you have with yourself. You are setting the tone for 2019. Don't hide behind work to evade the emotional challenges that are rocketing inside you. Accept that your attention isn't with the present moment as January present you with the first big test of the year. Draw on your incredible strength inside to ride out the turbulence.
Leo (7/23-8/22)
Your year opens on a bit of an upsetting note as you fall into the pit of uncertainty and lack of direction. It's time to recalibrate your inner being and make sure that your sense of duty and responsibility isn't taking up all of your time. Go out and find some fun to help lift the cloud over your head, Leo. You may feel a bit dark and dingy with a bit of crankiness thrown in. Take some quality time with yourself to renew your energies.
Virgo (8/23-9/22)
2016 opens with a mixed bag of emotions. You feel hopeful and optimistic, and at the same time cranky and out of sorts. Inwardly you sense that someone is about to rain on your parade. Trust yourself to do the best you can, and see what happens. This month is the beginning to free yourself from the responsibility of fixing everyone else's life while ignoring your own wellbeing. You need to nurture yourself first, but please remember to be polite about it.

Libra (9/23-10/22)
It feels like a boogeyman is in your closet as all the things you'd rather not admit fall out all at once. Rather than trying to shove them back in, try to commit to working through them as they come up. You are clearing out your emotional closet, so be sure to be kind to yourself during the process. You find yourself unhappy with your state of affairs as you push to find new goals and a new purpose. Something is gnawing at you from inside and you find you're unhappy with your current state of affairs. Close your eyes and ask yourself if this "normal" life is good enough for you? Yes, you! Now, doesn't it feel good to say "Hi" to your Self?
Scorpio (10/ 23-11/22)
2019 begins with the feeling that every time you turn around there's another obstacle in your path. When is the right time to act? Why aren't things running smoothly? This New Year shines a light on your career. You will receive accolades but the only thing standing in your way is timing. Instead of getting frustrated, get everything in order and wait for the green light. It will come.

Sagittarius (11/23-12/21)
Confused is the best way to describe your life as 2019 opens. One minute you're up and the next cranky and moody. It's not your nature to be moody so you're not quite sure of what's going on. This reflects that you are feeling stuck. Remember, you do have the power to do something about it. You are naturally friendly and sociable and set out to meet new people. Your biggest desire in January is to run away from home, or perhaps take a vacation. Anything you do to recharge your batteries brings unexpected dividends.

 Capricorn (12/22-1/19)
January is your time of year, right Capricorn? Then why do you feel so queezy and off center? Perhaps your body is giving you a clear signal that it's not going to support you in maintaining any unhealthy life patterns. As much as your mind prods you to "get going" your physical energy is up and down, leaving you a bit frustrated. Adapt, Cap. And work when you're energized and take a break when you're not. Don't allow expectations to get the better of you.
Aquarius (1/20-2/18)
As January 2019 opens, the best use of your time is releasing old pain and old disappointments to be free of them. Give yourself a change to be free of them. Right now you feel like to walking wounded and you really don't want to talk to anyone. You are waiting for the right time to move forward with that which has been waiting for release for a long time. You recognize that the avenue for change is coming closer and closer. This leads to some anxiety. Relax, you have a few months yet.

Pisces (2/19-3/20)
January and 2019 is a year for you to make some very important decisions. Your anxiety is not a sign of doom and gloom. This is your wake-up call, Pisces. Put yourself first, change your response system, and bring your doubts out into the open. Be prepared to deal with some last minute gltiches on a project you were all set to go ahead with. Relax and get it done. This is not a criticism of what you originally did. Don't allow your Self to be knocked off balance with some great energy shifts this month. You are in the midst of a huge restructuring of the very fabric of who you are, what you value, and how you intend to live your life. No matter how intense it becomes – it's only transitory.
©2019 Visions of Reality
All Rights Reserved