With Saturn and Jupiter in Aquarius, a few landmarks have already been set in recent weeks that foreshadow where the collective journey is headed. With an outraged Mars in stubborn Taurus squaring off against an "I just want to express myself" Sun in freedom-loving Aquarius, any attempts at cancel culture will get nipped in the bud. In the first three weeks of February, not only these two social planets are characterized by the freedom-loving and free-thinking Aquarian energy, but also the Sun, Mercury and Venus.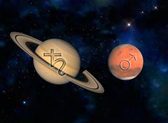 Surprising and unorthodox developments in social, political and technological areas can be expected during this time. With the Moon in nursemaid Virgo sending calm vibes to Venus, Saturn, and Jupiter, Peace begins but is short-lived as Monday's contentious energy is stirred up  later in the week by a stubborn lunar T Square in the vicious fixed sign of Scorpio.
As the last air sign in the zodiac, Aquarius is considered the archetype of the humanitarian, unconventional and sometimes rebellious person. It is a good time to try new things.
The antithesis to this experimental mood in February is mainly Mars and Uranus in Taurus. Mars shows little willingness to make quick changes and ensures that good ideas must be implemented in agreement with reality. Beware of reckless assertion of your wishes. The reactions of those affected could be unusually violent.
The fixed signs of Aquarius, Taurus, and Scorpio on Wednesday and Thursday, brings the energy of everyone thinking they are in the right and no one wants to give in.
A return to harmony and balance comes just in time for the weekend, when diplomatic Venus conjuncts a no-nonsense Saturn in Aquarius, the sign of universal love. Remember, February is Love and Heart month. Hang onto that during the dark, turbulent times.
Saturday night tempers can flair up again when Venus squares rabble-rousing Uranus. Group outings could be rife with drama. Squabbles, and even an unforeseen fist fight or two. Luckily, a collective sleep-in on a lazy Sunday morning can reduce the tension dramatically.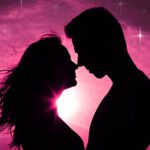 A nice, hot big breakfast or delicious brunch should do the trick.
The days around the Aquarius New Moon of February 11 are promising. Venus and Jupiter – the small and the great fortune – are in exact conjunction at 12° Aquarius. In the following two days, Mercury, still retrograde, joins them. It is a "make a wish" constellation that can actually bring serendipity, breakthroughs and deep insights here and there. Love relationships can experience an intensification during this time.
The integration of these manifold and enriching experiences is supported by the quality of time of the following days, even if here and there the difference between wish and reality might become overly obvious. On February 17, Saturn squares Uranus in Taurus, the first of three squares this year. Many of the original and creative ideas of the past few weeks are now undergoing their first reality check.
The Sun enters the sensitive sign of Pisces on February 18, Venus squares Mars on the 20th, and Mercury ends its retrograde phase on the 21st. Venus also enters Pisces on the 25th, and Mars makes a trine to Pluto at the same time. The lofty and sometimes unrealistic plans of the previous weeks must now be brought into harmony with your own spiritual and emotional experience. Don't be discouraged if you didn't get quite as far as you had hoped. Sometimes a step back is useful to get a more comprehensive view.
People with planets or angles in Aquarius in particular could have an extraordinary time this month, as could the other three fixed signs of Taurus, Leo and Scorpio. Astrology makes it clear, however, that we are all connected in many ways and participate in all that is happening in the zodiac. It is the way of experiencing that varies according to the horoscope.
An individual horoscope interpretation, created with the personal birth data, can shed more light on the events of the time, such as the