It's time for some emotional Spring cleaning when Mercury enters pioneering Aries on Monday, for a whirlwind two-week ride that will keep your head spinning with enterprising new ideas.
This week represents a long march to the Truth. There is a non-stop series of conjunctions leading all of us to enlightenment by accepting the cold reality that comes from finally understanding many of the previously confusing situations. It's time to analyze the tumultuous energy of the past few weeks in order to reestablish a sense of grounding, control, clarity, and emotional balance.
With this energy there is no time for dilly-dallying; starting on Monday the Moon joins up with Mars, Venus, and Saturn, bringing in confidence and stability. The conjunction of Venus and Saturn that same day ensures that kindness and compassion will not be wasted on those who do not deserve it.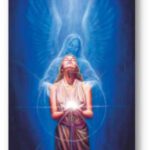 At mid-week the Moon hits Jupiter, Neptune and Mercury, reestablishing a connection and balance between the mind and soul. Take the time to meditate and merge with your Blessed Higher Self, angels, and guides. You may be surprised at the messages you will receive.
The New Moon on Friday, April 1st, (April Fool's Day) in Aries is no joke; this is a perfect time to set up an action plan so you can achieve your goals for the year ahead. Write down your goals and keep a journal as you journey towards them.
The Sun's conjunction with Mercury on Saturday makes this weekend an enjoyable time to enjoy chatting and catching up with friends and family, and Sunday's lunar line-up with Uranus promises to be a vibrant day filled with spontaneity. Best not to schedule things, but instead "go with the flow" and allow events to be natural while bringing you smiles and surprises along with an open and warm heart.