Get ready for lots of talk and a wide range of ideas as Mercury enters Gemini on Monday until July 5th. Plan a party and pop open the champagne, because the chatty planet is ushering in several weeks that are perfect for summer socializing. There is extra energy as it is also the build-up to Tuesday's Full Moon.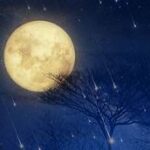 A bold, adventurous Scorpio/Sagittarius Full Moon is trining up for anything, with Mars and Jupiter in action, fearless Aries at the same time. The air and fire elements are strongest now.
This is the "marketing and director" energy as it is great for generating enthusiastic ideas and communicating concepts. Now is not the time to retire or for laying low; but the perfect time for enjoying the company of existing friends while widening your social circle.
With Mars currently in Taurus, hard work and profiting from those flowing ideas is a real possibility. However, understand that not all ideas will come to pass so, don't believe pie-in-the-sky promises or everything you hear now.
Love and money Venus is aligned with inventor Uranus and asteroid Pallas. On the business level, Uranus helps you come up with innovative ideas and is especially fond of technology and cutting edge concepts. Pallas helps you create a strategic battle plan. Venus helps you to manifest your goals and desires in her favorite sign, Taurus.
Reach out and plan an evening filled with an ecletric mix of people for guaranteed fun. Be sure not to stay out too late, or you could end up with a hangover at the pulsing Super Full Moon on Tuesday, which creates a groggy T-Square between the Moon, Sun, and Neptune. You may not feel up to your peak, so it probably is best to lie low at work.
Meet new people and try out new groups and organizations. Sagittarius and Gemini are travel and education signs, so where do you want to go, and what do you want to learn next?
Petty arguments could break out in the office on Wednesday, due to the Capricorn Moon in a square with Jupiter and Mars. The last thing anyone feels like doing is working, causing possible squabbles and resentments to surface.
However, things rebound quickly in time for nice evening get-togethers, as the Moon trines upbeat Uranus. This harmonizing trend continues into Thursday, when the Sun sends soothing vibes to strong, no-nonsense Saturn. The energy brings help in working towards your goals in the morning, with the Moon conjuncting powerful Pluto while trining logical Mercury and warmhearted Venus. Any lingering hurt feelings over the last forty-right hours will soon be forgotten.
However, the Sun also makes a challenging square relationship to Neptune, which would rather live in fantasy land and not allow for any upsets. Perhaps the best strategy on Thursday is to work hard in the morning and catch an early  dinner with friends in the late afternoon or evening.

Friday moves at a fast pace and you could feel a bit overwhelmed. You will need to act fast and keep up the pace in order to grab the fleeting, yet bountiful good vibes of the lunar sextiile with Mars and Jupiter. The day continues with a friendly tone so allow time in your schedule for social chit-chat at a short after-hours gathering.
Saturday is the week's sore spot, filled with passive-aggressive attempts at control. On Saturday evening, the moon moves into psychic Pisces and sensual pleasure-loving Venus, challenging "I'm tired tonight" Saturn. Watching a quiet movie is best.

Sunday suggests a more introspective day with conversations that can go towards philosophical or travel, as Mercury makes harmony with Jupiter (both love to travel). The sextile between Venus and Neptune makes this a five-star date night, so be sure to keep the focus on romance.