It's summertime, summer time. Sum – sum – summertime . Finally!  The  Leo energies are filled with carefree smiles and high spirits. Happy, light energy opens the week on Monday, with the Moon conjunct both Venus and Mars in an I want to play and let's-just-have-fun mood of Leo. On that same day, the Mercury trine with Jupiter exudes an intellectual open mind bringing a bit of substance to the frivolous good times.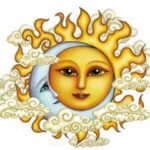 On Tuesday morning, Venus and Mars line up with each other to help put action to your desires. This has been building up all month. Tuesday is a non-stop glamour day making it an excellent day for shopping, changing your look, and unleashing your sensual inner seductiveness. Both planets are in Leo, so heart-felt talks, creative projects, and fun, are all supported.

A Virgo Moon puts you to work on Wednesday, while the fun-loving vibrations continue through Thursday, as the Moon trines Uranus and Pluto. This adds a spot of daring, spontaneity and confidence.

On Thursday morning, the Sun makes a harmonious trine to Neptune. Neptune likes to dream, fantasize, meditate and float through the day. When you add in a Libra Moon on Thursday and Friday, romantic fantasies are one possibility. No one will feel like working throughout the weekend.
The Scorpio Moon continues on Sunday along with a mixed bag of planetary aspects. Keep a low profile on Sunday and don't expect to finish all the projects you begin. It's time to forget about duties and obligations, get off the grid, and enjoy life. Want to go to the beach anyone?