Newsletter – PISCES 2021
AFFIRMATION
Knowledge is found within as I meditate and pray for my personal life answers.
MEDITATION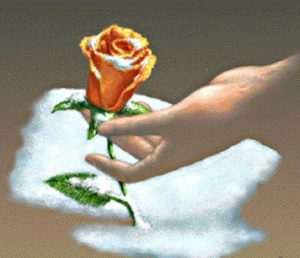 Now withdraw into the rose center of your heart. Meditate on the perfect rose. The rose of twelve petals lies at the temple of your heart. It's petals are opening to the Sun – every petal gleaming and glowing with the light. There is an ineffable Light in the heart of the rose.
Become enfolded within these petals, in a soft pearly light. You are within the temple of the rose, the Sun pours down into the heart with its glowing Amber Light—opening up the doorway to all empowering, unconditional Love. You are a part of this radiance and one with all of humanity, within the heart of the ROSE.
Allow the Light from the Masters show you how to live divinely and to rise above the dualities of this world and find peace within. Become a giver of peace and love to others. By dwelling on these higher energies and striving to emulate the qualities expressed, you will open your heart to absorb more deeply the Spirit manifested in all God-united souls. Let the strength that upholds the Universe fill your being with Light, joy, and everlasting love. Smell the fragrance emitting from the center of the rose and allow yourself to become Light with the radiance of the Universe.
May God grant me Health, Protection, and Guidance.

The Sun has entered PISCES

The sign of PISCES in March, 2021, reminds us of the entwined Fish, two spiritual energies becoming paramount, faith and compassion. Faith is the magical elixir that can vanquish hesitation, paralyzing anxiety, and qualms. It can transfigure your life, offering increased psychic sensitivity, universal love and divine enlightenment. Compassion is essential now that you are in the final phase of the zodiac journey. Altruism must take precedence over egotism as empathy for all of humanity replaces individual pride and competitive tendencies. Understanding, as a broad comprehension of life's mysteries, is the special gift of every Pisces. No matter what sign of the twelve you may be, this month can make you an imaginative visionary with the mastery to benefit others in a variety of ways.
(This information goes for PISCES Sun Sign – Moon Sign
as well as the Rising Sign.)
From: Medicine Cards by Sams & Carson, published by Bear & Co.
ANIMAL: THE FOX
FOX — Camouflage
FOX
Where are you?
Under the ferns?
Becoming the forest,
So I can learn?
Are you watching,
Invisible to me?
Trying to teach me?
To become a tree?
Reddy the Fox has many allies in the woodlands, including the foliage, which offers protection and much medicine. Fox is seemingly able to vanish admist the lush undergrowth of the forest. This flora is Fox's ally. The ability to meld into one's surroundings and be unnoticed is a powerful gift when one is observing the activities of others.
Another natural gift of Fox is the ability to adapt to winter by changing color, like the chameleon. Its rich, white winter coat allows Fox to blend into the snow when the leaves no longer linger. Fox medicine involves adaptability, cunning, observation, integration and swiftness of thought and action. These traits may include quick decisiveness, and sure-footedness in the physical world.
Fox's ability to be unseen allows it to be the protector of the family unit. If danger arises, Fox is johnny-on-the-spot. Nanih Waiya. Great Spirit in the Choctaw tongue, honors fox with the duty of keeping the family together and safe. This is accomplished through Fox's ability to observe undetected, without making others self-conscious. Fox is always concerned with the safety of family members and is an excellent tailsman for those traveling far afield.
Fox has chosen to share his energy with us throughout the month of March 2021, so take this as a sign for you to become like the wind, which is unseen yet it is able to weave into and through any location or situation. and you would be wise to observe the acts of others rather than their words at this time. Use your cunning nature in a positive way; keep silent about who and what and why you are observing. In learning the art of camouflage, you need to test your abilities to pull this off.
One test exercise that may be helpful to you is deciding to be invisible. In doing this exercise, you might try to visualize your body as a part of your surroundings, full of the colors of the location you are in. See in your mind's eye yourself moving with stealth and grace, unheeded by others. If you do it right, it works! You can leave a party unnoticed or become as unobtrusive as a piece of furniture, watching the developing drama of the subjects you are studying.
While learning from Fox, you might also gain confidence in your ability to know instantly what will happen next. After observing for awhile, you will become aware of a certain predictability in given situations and be able to quickly make your move. Fox medicine teaches the art of Oneness through its understanding of camouflage. This applies on all levels, from rocks to God. With Fox medicine, you are being asked to see all types of uses for oneness.
Much like the clowns at the rodeo, Fox can keep the raging bull from stampeding a friend or family member. Fox can use silly tactics as a brilliant camouflage move. No one could guess the sly power behind such ingenious maneuvers.
CRYSTAL: AQUAMARINE — JASPER
 AQUAMARINE —  A variety of beryl. Calms the nerves, reduces fluid retentions, strengthens kidneys, liver, spleen, thyroid. Purifies the body. Enhances calmness of mind, aids creative self-expression. Brings physical/mental/emotional balance. Helps to banish fears and phobias. Excellent for meditation, inspiration, peace, calmness, love.
 JASPER —  A variety of chalcedony. Strengthens liver, gallbladder, bladder. Powerful healer. Main impact is on the physical body. Represents our earth element. Works with the Chakras and adjusting our attitude, according to the color of the Jasper stone.
RUNE of the Month – Uruz
STRENGTH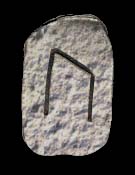 Manhood, Womanhood, A Wild Ox
This is the Rune of termination and new beginnings, as the winter ends with URUZ. The Rune, Strength, indicates that this will be a time when you realize the life you have been living has been outgrown in its form, and so must die out to allow a new energy, bringing in a new birth, with a new form. Uruz is a Rune of passage and, as such, is a part of the cycle of Self-Transformation.
Positive growth and change, however, may involve passage into darkness as a part of the cycle of perpetual renewal. As in Nature, the progression consists of five parts: death, decay, gestation, germination, rebirth. Events occurring now may well prompt you to undergo a death within yourself. Since self-change is never coerced – as we are always free to resist – remain mindful that the new form, the new life, is always greater than the old.
Prepare then, for opportunity disguised as a loss. It could involve the loss of someone or something to which there is an intense emotional bond, and through which you are living a part of your life, a part that must now be retrieved, taken back to your heart, so you can live it out for yourself. Now, in some way, that bond is being severed, a relationship radically changed, a death experienced. Seek among the ashes and discover a new perspective and a new birth.
The original meaning for this rune was the Wild Ox. When the wild ox was domesticated, a nearly impossible task, it could transport heavy loads. Learn to adapt yourself to the demands of such a creative time. Firm principles attach to this Rune, and at the same time humility is called for since in order to rule you must learn how to serve.  Write down some important changes that need to be made, and make them your New Year's resolutions, then stick by them. For the Spring of 2021, will put you on notice that your Soul and the Universe will support the new growth.
Don't be afraid to make the leap or take the chance.

WEEKLY WORLD-WIDE MEDITATION
This has always been the section for Healing Requests. Through the power of group prayers, healing take place spontaneously. You can be of help to many others, as well as your loved ones, with one minute of silence at 7:30 pm EST every Sunday evening anywhere in the world. With a prayer for the recovery of health, universal energy is sent out to any and all who send in their prayer request. What is needed is the name and birth date of the ill person, along with a diagnosis, if possible. What are you asking to be lifted? When you place your request in the Healing Circle of Light—located in our Prayer Room, – know that as soon as you make your Prayer request and Healing request – you will begin to see positive results!
(We have had thousands of responses. Keep the Prayers going for all concerned!)
STARGAZING FOR PISCES 2021
Discover the secrets of your Astrological Sun Sign, Moon Sign and Rising Sign
and read them all together, for monthly guidance and direction.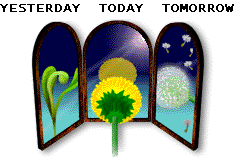 PISCES
The March 13th New Moon in Pisces brings a time when the Moon is especially close to Neptune and Venus bringing in a softness and artistic vibe. This is especially harmonious and poetic. Time to dust off  your old projects that you have cast aside, and make a vow to complete them in 2021.
The March 28th Full Moon in Libra brings Palm Sunday. The energy pushes the buttons of manipulative Mars, whose cool headed force can push the buttons of others into angry outbursts. Work hard to stay balanced with your emotions. Deception and lies abound. It's time to say "enough is enough," with the balancing energies of this Full Moon.
PISCES; Polarity: Feminine  Sign:Mutable   Element: Water  Colors:  white, violet
Planetary Rule: 12th House/Fishes   Body: Feet
FOCUS: I am an idealistic visionary with compassion. I see clearly first and then make my decisions, following my inner direction.

THE PERSONAL SIGNS

Aries (3/21 – 4/20)
The first two weeks of March may be your only downtime. You find yourself more psychic than usual and have an interest in learning more about metaphysics. Watch for flare-ups with partners around the Full Moon on the 28th. Holding hands and kindness goes a long way to soothing tempers. Watch out for your famous short temper and don't let it effect relationships with colleagues at work.
Taurus (4/21-5/21)
You may be feeling a bit edgy in March as sudden events keep you on your toes looking for immediate solutions to unraveling problems. Blending of families take center stage as you celebrate the happy occasion of a milestone birthday, a new birth, or a special anniversary. Home decorating and gift giving are on your mind, creating a diversion from your intense work schedule. Watch your spending to avoid going over your credit limit between March 5th and 7th  
Gemini (5/21-6/20)
In March the plans you've been mulling over the past few months are now ready for action. The bulk of a laborious project is near completion. Vested employees are eagerly awaiting the news and details. The New Moon on thec13th favors travel and contact with people at a distance. Election to a leadership post is possible this spring. Seed money is available for you to complete your goals. Suggest forming a roundtable of discussions to handle differences in approaching the work involved.

Cancer (6/21-7/22)
March begins and ends with matters connected to your home base and the people who live there. Expect both laughter filled moments as well as emotional outbursts. Whatever you do, don't bring your disappointments at work home with you. The home environment mood is too precious to shatter. Be receptive to modifying any plans due to unpredictable weather issues, event cancellations, or health issues. Set the stage for compatible interactions with family members even and show that each member of your family's opinion counts. When everyone listens to what another has to say, it builds strength and unity.
Leo (7/23-8/22)
In March, waiting for the right cycle or date to emerge becomes an annoyance of the past. You could go into action mode as early as March 2nd and wrap up the month feeling good about yourself. Dreams and intuitive insights blossom; be sure to journal these thoughts and dreams for future reference. Matters on the home front are prickly and the green-eyed monster could raise his head early in the month, so take it easy when expressing your opinion. Take advantage of strong momentum at the workplace and schedule working lunches to break any strict routines to keep the positive energy flowing.
Virgo (8/23-9/22)
March is shining a light on your financial health. The need for household improvements crop up unexpectedly. Keep the checkbook handy and be on the look for household sale items that fit your needs. Spouses, children, friends, or romantic interests compete for your time. As you calendar fills up, you have decisions to make regarding your money and time. If some invites come from places that don't interest you at all, it's best that you decline. Be aware that for one reason or another your debt load will climb in March due to unforeseen circumstances. Be careful and be wise, Virgo.

Libra (9/23-10/22)
March is the perfect month for you to shower some attention on yourself; the spa, a manicure, a new hairstyle, additions to your wardrobe and some playtime. In case your energy has been sagging, schedule your annual physical and any other preventative appointments. Dietary changes will do wonders for your vitality and body tones. Business thrives this month and shows how including staff in planning discussions, create a harmonious atmosphere at work.
Scorpio (10/ 23-11/22)
Scorpios who garden are itchy for the ground to thaw so they can till and enrich to soil and begin planting their seedlings. However, spring may come a bit late this year. Aspects look bright for all of your interactions with family, siblings and cousins. Expect phone calls and visits. Lending an ear to help others solve their financial dilemmas allows you to show your fiscal savvy and point the way to solving perplexing problems for a relative or work situation. Money in the form of bonuses or raises may appear at month's end.

Sagittarius (11/23-12/21)
Household activities and interactions with residence or friends could be why you have so little free time in March. You may be called on to help with a life-altering decision that involves a career move or help with an elderly parent's welfare. One or more family members could need some medical attention. You could be the one shuffling them out to doctor's appointments or medical tests. You and your mate seem to be on the same page for most of the month. The Full Moon on the 28th is not particularly beneficial to hold a vote for changes in your action plan. Be sure to get the proper rest this month, Sag.

Capricorn (12/22-1/19)
Education and continuous improvement are high on your list for March. Benefits from work related travel and possibly attendance at a seminar for team building are powerful as everyone shares intense experiences. Work colleagues, bosses, and members of professional organizations dominate your days this month. Positive ideas bring attention to your standing from those who oversee your work. Plans for outings, vacation, and adventures increase excitement at the home base. The family is nurturing, which leads to healing any emotional rifts.
Aquarius (1/20-2/18)
In March the planets of prosperity line up to give your monetary power a boost. You'll be able to pay your bills and stick to your budget this month, with enough left over to add to your savings or put aside for that big-ticket item you're planning to buy. Also, you still have some leftover birthday cash to put toward your summer vacation. Those of you who are dating or want to begin dating have excellent prospects to meet new people early on in March. You should be able to cut favorable deals and get excellent discounts on your purchases. Also, you are an excellent magnet to attract lucrative job offers if you are wanting to make a change. Go for it, Aquarius.

Pisces (2/19-3/20)
You ask yourself, "How do I feel about romance?" as March opens, Pisces. If you're anticipating shifts in your status-quo, it's a perfect time to announce an engagement, getting married, or celebrating a milestone anniversary. Step up your social life with bonding events that include friends, individuals you're dating, and those with whom you'd like to share a long-term relationship. A few could surprise you by the depth of their feelings. Financially you could sail through an audit or get good news about your estimated taxes for next year. Be sure every receipt or form is included before you file.
©2021 Visions of Reality
All Rights Reserved