---
An intense Full Moon highlights a handful of powerful energy shifts this week. The first shift is a change in direction for Pluto on Monday, the 18, as the planet begins its five month retrograde period. Since Pluto has influence over organizations that operate under the radar and also over waste management systems, as well as power mongers (think nuclear) it's possible that global or even local "garbage" may overflow sometime between now and September.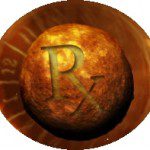 Mars turned retrograde on Sunday morning April 17, and continues until June 29th. You will review and revise your actions and ambitions in the weeks ahead. Do an inner check to determine if the actions you are taking now are in harmony with your higher ideals and goals.
You will find that the priorities you had on January 1st will change considerably by late August, as retrograde Pluto helps you go over your past and release that which is no longer in harmony with your chosen lifestyle. You will need to release projects, goals and even people who do not fit the new you that is just starting to show.
The next shift is Tuesday, the 19, when the Sun says farewell to Aries and enters the earthy, grounded, creative energy of Taurus. The Sun's first big contact is to oppose the Full Moon in Scorpio on Friday, April 22. On Tuesday, remember that your values and desires are different than other people in your life. The paradox is that both of you can be right even when you disagree.

Mars passes over important planets in both Hillary Clinton's and Ted Cruz's chart, so watch for them to be activated by this attack energy, and especially Hillary's past coming to light. Ted's past discretions will also be exposed.  Destructive Pluto turns retrograde on Monday. The combination of Mars and Pluto turning retrograde at the same time will manifest as some bad events in the world. Don't buy into fear. Understand that the media focuses on the people who do an impatient and destructive form of transformation, and the rest of humanity does it on a quieter, sane level. Good will come out of this forceful energy, but you may not see the results immediately.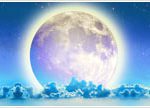 Thursday brings the Full Moon at 3 degrees Scorpio and Taurus, and this is a moon of power. Scorpio takes you down to the emotional depths of your being, and Taurus transforms your values. It is a moon of transcending your fears so you can manifest your highest desires. This standoff between Taurus and Scorpio suggests that it's time to look for balance and completion between your personal security and the need for change.
There might be a surprise in store at the end of the week when Venus joins together with unpredictable Uranus in fiery Aries. Because this Venus-Uranus nature is both hot and explosive, this may turn out to be the most exciting weekend of the year. Venus is aligned with Uranus now and through Earth Day (Friday). Venus is like Taurus and is associated with your value system. Venus chooses to bring forth greater beauty and harmony in her life. Uranus tells you that it is time to change, time to choose a new way.
Together, you revolutionize your values to choose to live in a higher balance. Of course, this is a very fun combination, so go out and let your eclectic and eccentric side show. There is an abundance of harmony activated now between planets in the earth element signs of Taurus, Virgo, and Capricorn. The stimulation to raise your values combined with the earth element helps you manifest innovative ideas in a tangible way. Certainly there is opportunity to improve your finances and material world desires. The same is true for your relationships, as long as you allow space for independence and freedom. Remember that Mars and Saturn continue to be in their retrograde cycle, so the work you do now shows greater improvement by September.
Friday is a playful day. Both Friday and Saturday are filled with harmonious aspects. Friday is easier to reach out to new people and concepts. Saturday is better with trusted friends.
You'll be able to enjoy these heart warming, abundant energies a lot more if you keep a firm grip on both your heart and your wallet.