THE ANNUAL 2014 PREDICTIONS WERE POSTED NEW YEAR'S DAY, and the monthly 2014 Predictions are posted at the first of the month. You must join our monthly subscription pages to read them. The magazine, "Psychic Visions Plus," posts monthly predictions, your monthly Numerology, Angel Guides, monthly Tarot for each Astrology sign as well as a monthly astrology forecast.
ROB MC CONNELL AND THE 'X'-ZONE RADIO/TV SHOW
Watch my weekly Stargazing Report with the X-Zone every Monday on You Tube
There will be a price increase on May 1st for my readings – so order yours before then!

STARGAZING YOUR WEEKLY FORECAST
Week of April 14th April 20th, 2014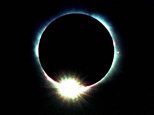 THE FULL MOON LUNAR ECLIPSE
TUESDAY APRIL 15TH AT 25 Degrees