One of the very few psychics worldwide that picked up on the earthquakes in Haiti and the Philippines and the September 11th Twin Towers tragedy in New York City. Thousands of people have witnessed Elizabeth Joyce's incredible psychic powers on TV shows such as Unsolved Mysteries, Beyond Chance and The Psychic Detectives, as well as CNN News. Elizabeth is a frequent guest on radio shows across the country. She has been profiled in Woman's Day Magazine, Wall Street Magazine, The National Examiner, The New York Times and other national media. Elizabeth is the author of numerous articles, books and guided meditations.
---
The 2000's
Book Review by The Indigo Journals – January 12, 2016
Article written by Elizabeth Joyce – Levittown Leader – January, 2016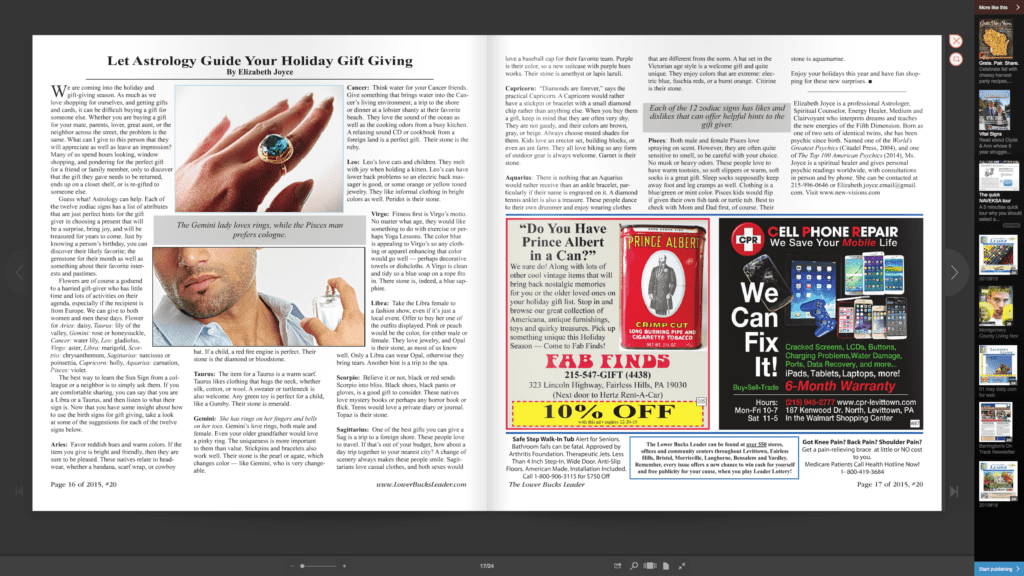 Articles published by Elizabeth Joyce in local newspapers.  The  Lower Bucks County Leader December, 2015.
Book Review by Attune Magazine – Nov. 11, 2015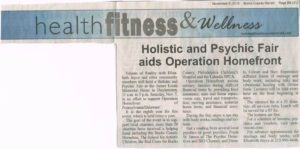 Celebrating Eight years of producing Holistic and Psychic Fairs for Bucks County local charities.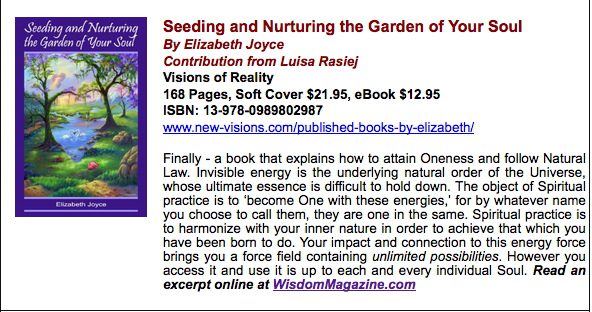 Wisdom Magazine reviewed my book, Seeding and Nurturing the Garden of Your Soul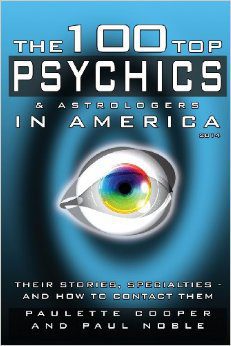 I was included in the second edition of the Top 100 Psychics and Astrologers In America in February, 2014.
WISDOM MAGAZINE reviewed my second book – Ascension-Accessing The Fifth Dimension – June 2010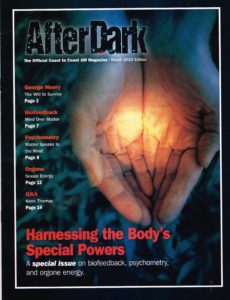 This is the magazine from Coast to Coast/AM Radio – March, 2010
They did an article on psychometry and psychic profiles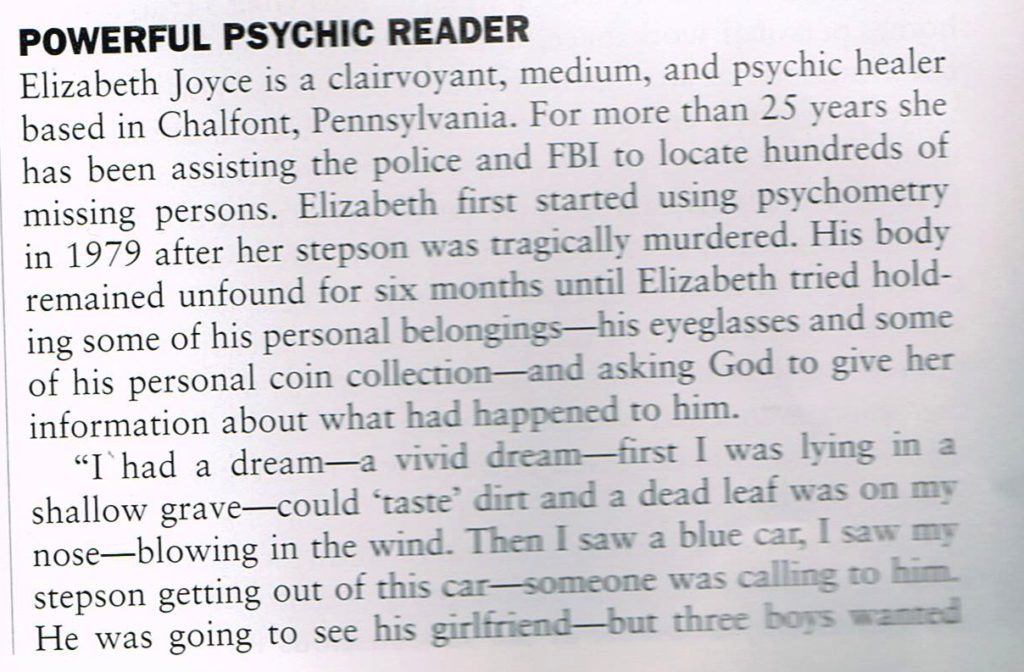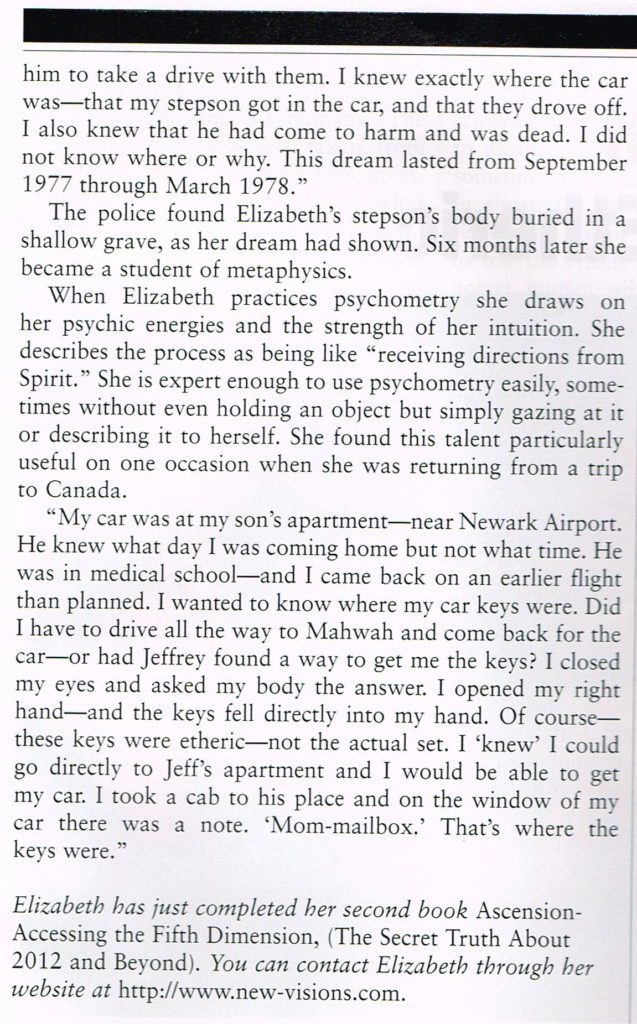 The Psychic Detectives Film Crew came to Doylestown, PA and Chatham, NJ to film the segment More Than A Dream which aired in April 2006. Several of Elizabeth's friends were extras in the film. This series in still on cable in reruns.
To my utter surprise I was included in this publication in 2004. The way I found out was Francine, the author, called me to ask for a photo. I asked if I could edit the article for accuracy but she said no. I sent the photo, making this the fifth book I was included in. It was such an honor because only five or six people included in this book were still alive. It's still available on Amazon.com.
Hans wrote a revised edition of the Psychic Yellow pages in 2001, and included me again. Here is the article:

THIS story came out while I was working with invisible entities, before writing the best seller, Psychic Attack, Are You A Victim (2007) — I was interviewed about author Stephen King, when a car hit him and the driver was killed.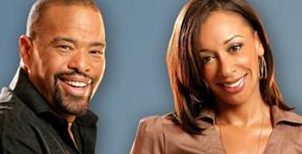 Between the year 2000 and 2002 I was the featured psychic on the Doug Banks and Dede McGuire Radio Show on ABC Radio. The broadcast was national, and homed out of Dallas. Texas.
---
The 1990's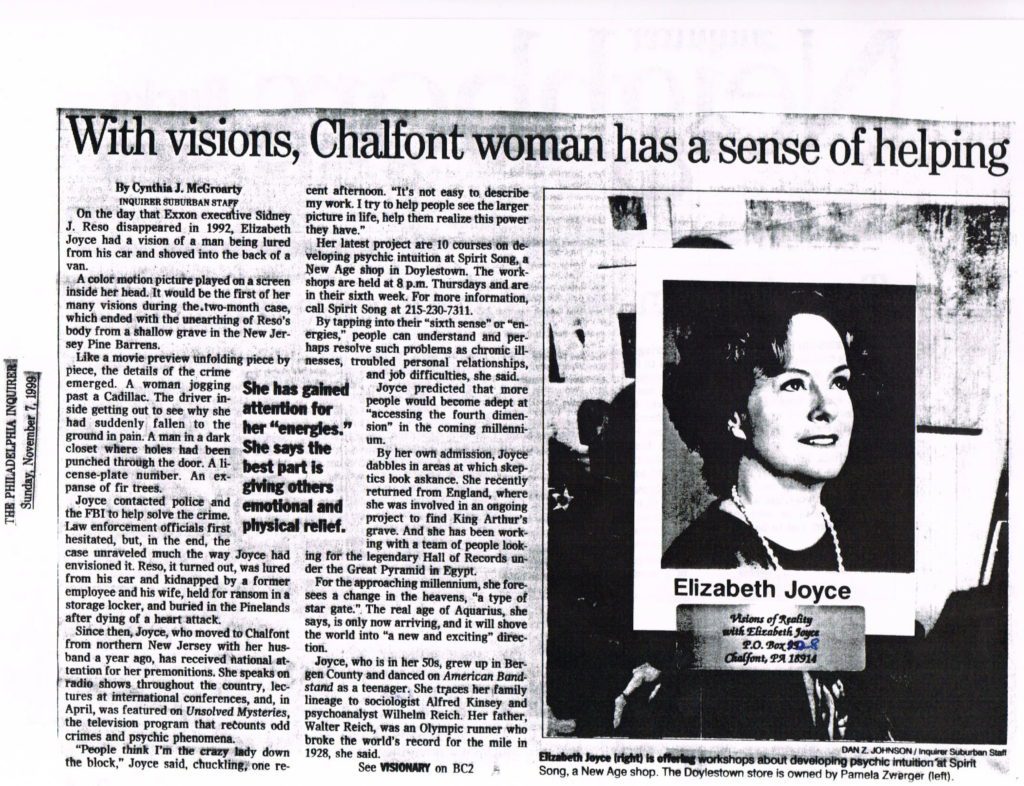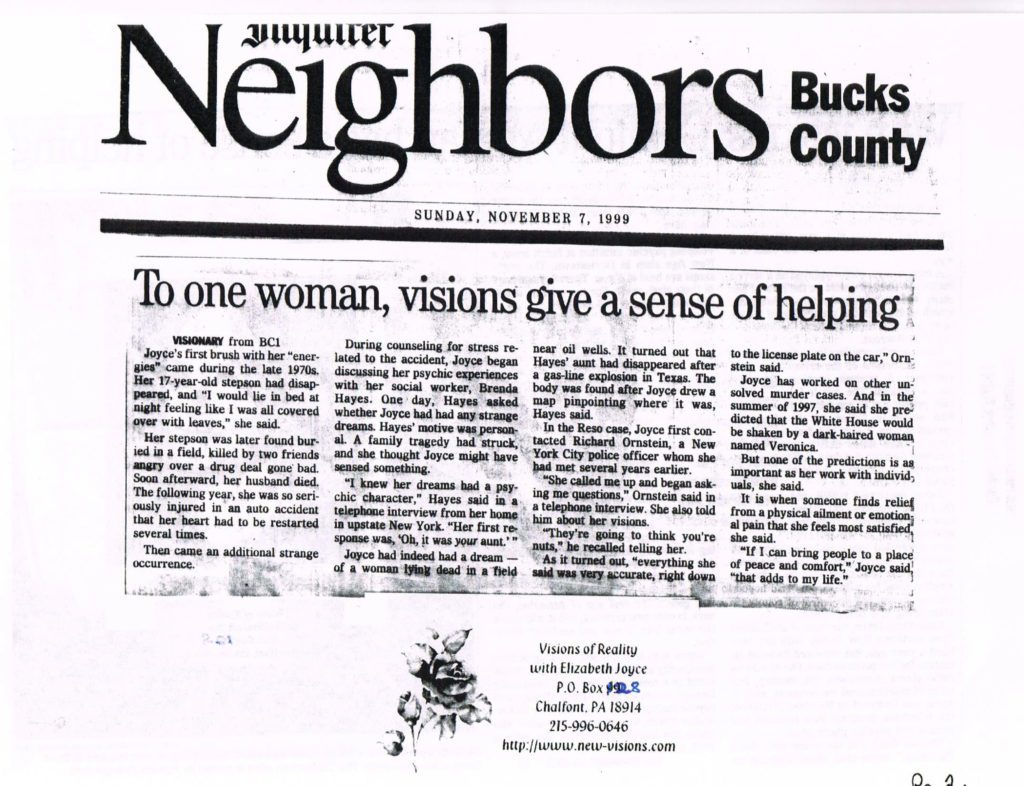 Likewise, when I married and moved from Mahwah, NJ out to Bucks County, PA I was welcomed with a nice article in the Intelligencer. I had been in the area over a year, and was doing some good healing work.
In April 1996 I was honored to be included in an Archaeological Dig at Giza in Egypt, where I actually walked the left paw of the Sphinx. The group was Dr. Joseph M. Schor, The ARE, and the University of Florida. We were there for approximately three weeks.
A series of tunnels were explored, tunnels that appeared to be conduits for water — water from the west, not from the current location of the Nile east of the site. The Nile did previously flow west of the Giza plateau, but geologists place the time of that long before the known occupation of Giza. Yet one must wonder, if the plateau was a major spiritual center for thousands of years before the first dynasties, as some speculate, why burials from those times are not being found. Three new princess crypts were uncovered between the Great Pyramid and the Isis Plateau location.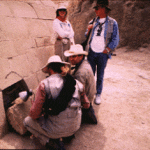 Marc Trembly from Quebec, Canada, and I were asked to do some remote viewing and "see" what was under the Sphinx, if anything, and also the best way to excavate and get to that location without disturbing the plateau. We came up with some incredible diagrams, crawled under the belly of the Sphinx, and were able to go through the ancient Initiation ceremony in the Great Pyramid. It was quite an experience. (I am in the blue shirt w/hat and Marc is standing a bit behind me, as the geologist examine the entrance at the back rump of the Sphinx.)
It was commonly known that in order to open the secret chamber below the Sphinx, Dr. Schor may be one of the select few that know the "truth" (behind the hyperdimensional physics/Moon structures/Mars structures/coverup). The  new engineer, who has been chosen by Hawass, is to use another robot to open the "air shaft" door in September also happens to be a member of the Edgar Cayce society, and is also connected to the Dr. Schor group. The research work stopped for several political reasons, although another trip had been scheduled in December of 2002. Dr. Joseph Schor passed away on July 14, 2013.
I've had this website since 1996, and that early in the game, there were predators out there stealing others work for their gain. At the end of 1998 my agent in California, (I was in New York City) called and told me she was proud that I was featured in the National Examiner, as she thought that was "big time." The problem was I knew nothing about it. I had posted this article on my website, and let me just say that Carol Anderson was lucky she gave me credit for this article. I immediately called the publication, explained the situation, and requested that I be paid the exact amount that was paid to her for MY article. Since she had no permission in writing from me, because she had taken it from my website, I was paid the funds. This was in 1996, and matters have become worse these days. I know I have an article that a website from India copied – without giving me credit. I cannot reach them to take it down, or at least give me some credit. (That article is Astrology and Your Pet, which I originally wrote in the 1980's when working for the Pike County, PA Humane Society.)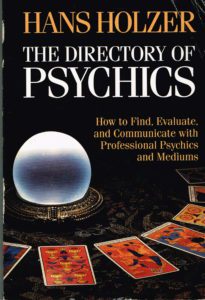 This was the first reference book I was included in — 1995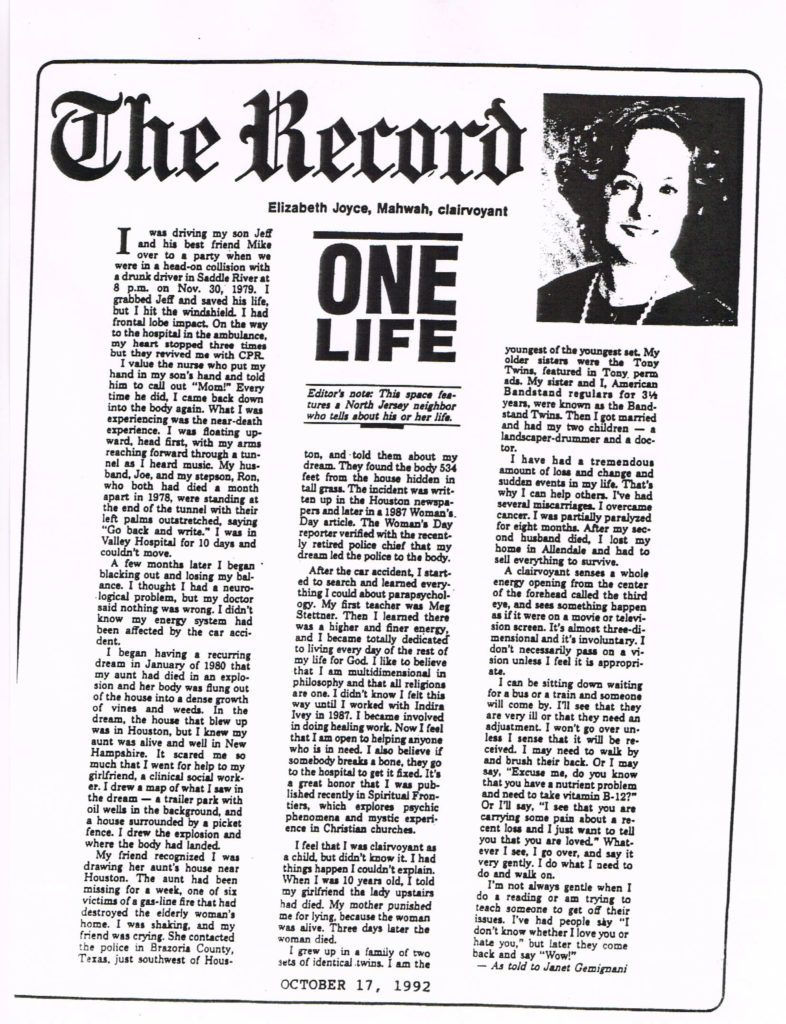 A few months later the Bergen Record decided to commend  my life work. This was very gracious and a nice article.
PSYCHIC SAYS SHE HAD A FATAL VISION
By DAVID GIBSON – STAFF WRITER
This is quite a story. On April 28, 1992 I was at home, in Mahwah, NJ. It was about 3:30 pm and I felt a strong urge to turn on the television. A news report was coming across the wires about the abduction of the president of EXXON. My first thought was, "Oh no, not another EXXON murder. There had been two others previously. My father worked for EXXON for forty-nine years so I was familiar about the company. A classmate of my older sisters began working for the company right out of college, because of my father's recommendation. He had married, was in the process of divorce, planning a new life with another, when his soon-to-be ex asked him to come over and help her with the income taxes. There was an office in the basement of their home, and as he sat there, perusing over the paperwork, she shot him in the head, and he was killed instantly. This had recently occurred in Upper Ridgewood, NJ, where I grew up.
Suddenly a vista opened up and I saw the entire abduction, as if I were watching a black and white movie. I saw Mr. Reso leaving his home and getting into his navy blue Cadillac. As he was backing out of the driveway, I heard a scream, and a blond woman with her hair in a pony tail, wearing a running suit, fell at the bottom of the driveway. Mr. Reso put the car in park, he did not turn off the engine, and ran to her aid, more than likely thinking he had hit her. Suddenly a man cam out from behind some bushes, or a hedge, with a gun, and both people push Reso into a white van. During the struggle, I heard the gun go off, and I "knew" Reso had been wounded.
Needless to say, I was very upset. I took some deep breaths and asked "Spirit" why I had seen this and what should I do next. I allowed myself to become very quiet. Then I remembered that one of my students, who lived in Hackensack, had three brothers who worked in the FBI. I quickly called her.
My student did not know what to say to me. I described to her what I "saw" and she was flabbergasted. She patiently explained to me that the FBI would never get involved with a psychic or rely on any "visions."
"But I know I can be of help to them," I cried.
"OK, I'll try – and perhaps someone will get back to you," she responded.
The following day someone called me from the FBI Media Center in Morristown, NJ. They had set this area up to receive calls and information regarding the kidnapping incident. He identified himself as Tom Catone, part of the FBI Task-force. I explained to him what I saw and he was more than skeptical; that is until I told him things no one else could possibly know. I told him about the blue Cadillac and that the motor had been left running. I also told him I believed that Reso wore glasses, had been wounded, had a heart problem, and was without medication. I described the white van, and let them know that Reso had been taken to a home, possibly in Bloomfield, NJ. This conversation was one of many I would have with Tom through May 15th. I can still feel the body signals I received at that time, they were so strong. It was like I was a part of Reso at the time. I did not understand the metaphysical energies of what was going on, but I do moreso now.
Everytime I received a message about Reso, I called Tom. By the end of that week, I knew he had been moved, into a "closet" with three numbers on it. (That turned out to be a storage unit – and yes – the three numbers were the same I had reported.) Then, on Sunday, May 3rd, I woke up crying and did not know why at first. As I got quiet and went within – I heard, "He died today," and I knew it was Reso. I called Tom at the FBI and told him. He was getting a bit frustrated to say the least. He wanted more information from me about the kidnappers, and it simply was not coming forth. Finally I was able to tell him that the man had a blue uniform on, and could possibly have been an EXXON employee. Not much came in about the woman, except her original description.
The last day I spoke with Tom Catone was May 15th. At that time they thought they had some leads around Newark Airport. The minute he said that to me, I "saw" where Reso's body was. I said to Tom, "No that's the wrong direction. He's off of the Garden State Parkway or the NJ Turnpike, but the parkway is stronger. He's in a shallow grave between two pine trees. He's in the pines, he's in the pines." At this point I was in tears.
"When are we going to find the perpetrators?" Tom asked.
"At the end of June," I replied.
And so it was, for whatever reason. The kidnappers were caught. They were a married couple, the wife was blonde, and the husband wore a blue uniform while working in the mail room at EXXON. Reso's body was found in a shallow grave, between two pine trees, in PINEHURST, NJ, right off of the Garden State Parkway – and to top it off, the date was June 30th, 1992, just like predicted.
Now here's a funny thing. When Unsolved Mysteries chose to film this true experience, they tried to reach the FBI Agent, Tom Catone. They found he had retired and was living in Toms River, NJ. When they asked him about this incident, he claimed he had never heard of me, and would not confirm or deny the communications. However, I did draw a picture of the grave on May 15th, 1992, a shallow one between two pine trees, and sent the envelope out to two other people. If you traced the phone numbers from my fax machine, it could be proved that I sent something to Morristown. Even now — in the twenty-first century — people still deny that we all have the ability to connect, just as we all have the ability to breathe or sing. Yes, some have more power than others, yes, some people sing better than others. I think we'll get much better at this as time moves on.
---
The 1980's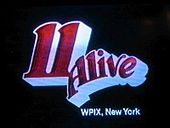 In 1983 I had my first TV appearance concerning metaphysics, meditation, and my healing work. I was a guest on NEW YORK — NEW YORK with Ralph Lowenstein.

The Joe Franklin Show – Late Night Talk – WOR—TV
After the Woman's Day article, in 1983, Prof. Hans Holzer got me an appearance on the Joe Franklin Late Night Talk Show, where I appeared as the "in-house psychic" until 1998, when I moved out to Bucks County, PA.

THIS was the first national media coverage for me. Jennifer Donovan, the author, went to great lengths to find people and a trail to absolutely verify and prove this incident, including the police sergeant involved. It has been shown on Unsolved Mysteries and The Psychic Detectives.

Elizabeth's work was included in a science book on ESP for children, grades 4 through 6. It spoke of her work with children, finding a body in Houston, TX, and how and why we all have a "mind connection."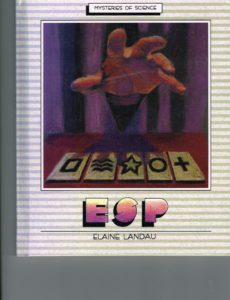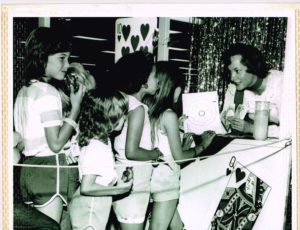 Reading the children at Annie's Store opening, Bridgeport, CT – August 1982