Tarot Guidance for MARCH 2014
While in deep meditation a Tarot Card is pulled as the month changes energies, to guide each of the twelve signs of the Zodiac for the coming month. Click on the card which represents your Sign of birth – your personal Astrological Sign. You may also click on your rising sign for further guidance and direction.
MARCH 2014
Below are the twelve signs along with their corresponding monthly Tarot card and message.
ARIES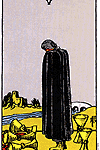 Your intuition,imagination, and private life are emphasized now. The March 1st New Moon in Pisces encourages you to review your recent actions, and then decide what your next move should be. Your energy may be low through the 19th. You can rest. do yoga, meditate, and go on retreat, or do some quiet activities. Someone you knew from the past could re-enter your life around the 13th. If anything odd happens that weekend, you can manage it. You can move forward at the Spring Equinox on March 20th. March's second New Moon in Aries on the 30th will help you to promote your plans and move forward with your plans.
TAURUS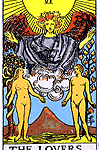 The March 1st New Moon in Pisces urges you to review your priorities and see if the measure up with your current needs. March 2nd through July 20th will be a potentially trying time for your relationships. After March 5th you may be more daring at work or in your personal life. On the March 16th Full Moon, if you have been spending some time with someone who is "just a friend", you may discover that their feelings for you are very different. Don't do anything foolish now! You need a break this month, Taurus! If you can't manage to get away, at least turn off the telephone and computer and relax at home. You find fresh perspectives and information through discussions with intelligent people throughout the month.
GEMINI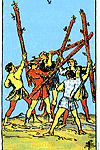 Something new could happen at your workplace around the March 1st New Moon in Pisces. You could begin a new job, or move into a different career or life path. You can learn some new skills in the first two weeks of March. You can take some time off after the 5th. Go to a spa or nearby resort. In-Laws could prove to be cooperative now. AT this time, your love life seems to be on hold. If fun and sharing are scarce, you can enjoy hobbies, socializing, and creative activities. If you are a parent, your child could need some guidance now. You can show off your abilities at work between March 17th and April 7th. Discuss your ambitions with your manager. If you plan a get-together with friends on the March 30th New Moon in Aries, this event could brighten your mood.
CANCER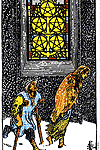 With two New Moons, you are kept emotionally busy throughout March, Cancer. You could be inspired to travel or return to school. You will have to be patient at home and with anyone who lives with you through May 19th. You may think about loved ones who live far away, or you could hear from a former sweetheart or acquaintance. Some childhood memories could affect your decisions. Someone close may misunderstand your needs and this issue will need to be resolved. Be sure to protect your interests. The March 30th New Moon in Aries invites you to make a fresh start with your career.
LEO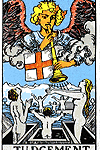 Pride may be affecting your decisions as march opens, Leo. Debts, taxes, and joint accounts are emphasized. You will have to keep track of all financial matters, including your partner's spending. Don't co-sign loans or lend money or valuables to anyone, even if they beg. You can plan some relaxing social dates with your partner or spouse now. Make sure to turn off the cell phones! If you have a problem with your boss between the 10th and 16th, don't make a fuss. Be sure to review all debts and joint accounts after the 17th. You can have some fresh perspectives after discussions with experienced elders throughout the month. Listen and learn! Be wary of reckless driving and careless drivers now and throughout April.
VIRGO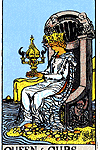 March brings help with your work and on-the-job relationships. Your income and finances could be a bit slow at this time. This is a potentially challenging time for communication with your oldest son and siblings. After the 5th, any work related problems should calm down. Just do your duty and meet any deadlines. You may feel a bit edgy on the 16th at the Virgo Full Moon. You may need to refine your approach or appearance so you can make a better impression with the new people you meet. If you have had prior problems with a person in authority, this problem could arise again. The good news is that this time, the resolution could favor your interests.
LIBRA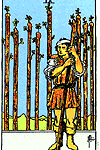 The March 1st New Moon could bring you a new job, work project, or ailment. Avoid making any major changes at work, home, or in your personal life from now through May 19th. You may find a new hobby, or love, after the 5th. This new interest could be different from those you prefer. Remember, rebels and eccentrics can be exciting, but they seldom make good long-term mates. Don't hop into bed with Mr. Wrong. The March 16th Full Moon in Virgo brings in some memories from the past. After the Spring Equinox on the 20th you could get very lucky, someone may help you learn a new hobby or earn a new source of income. You will need to protect your health after the 17th. Avoid people who have colds or other infectious diseases. Be careful when traveling locally. Relax with your mate or favorite companion at the March 30th New Moon in Aries.
March's two New Moons gives you the opportunity to make a fresh start in two areas of your life, Scorp. The March 1st New Moon in Pisces urges you to find better ways to use your leisure time. Life becomes slower, so be sure to get plenty of sleep. You may redecorate your home or entertain family and friends there between March 5th and April 5th. This is an excellent time for family activities and reunions. The March 16th Full Moon in persinckety Virgo may shed light on a group or friend. Conflicts could arise if your belief system is different than those people. Just always be true to your beliefs. You prefer to avoid noisy crowds throughout the month because your energy is low.
SAGITTARIUS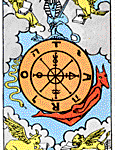 Your role in life is emphasized at the Pisces New Moon on March 1st. You may find that things still are not moving forward as quickly as you'd like. After the 6th, your life becomes a bit easier. The March 16th Full Moon in Virgo calls attention to your career, businesses, and your position in them. If you are unhappy with your job or status, you can discuss your needs with your employer, or you can look for a better job. If you are concerned about business affairs, you may need to make some changes and/or seek professional guidance. Beware of reckless drivers for this entire month. You can get some useful information through wise people after the 16th. Listen, ask questions, and learn!
CAPRICORN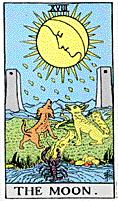 You are always more ambitious than most, Capricorn, but you will have to be patient about career and business matters this month. You may find it difficult to achieve your goals at this time. If friends or work associates become difficult and rather cool towards you, blame the retrograde planets. Your financial position is erratic throughout March. Don't worry! Just be sure to get all financial details in writing. The issue of control becomes a hot topic between the 11th and 29th. If friends, groups, or associates try to draw you into a power play , keep away from the conflict unless it involves you personally. In that case, you may have to take charge, but be very careful. Avoid noisy crowds now as you could be low on energy.
AQUARIUS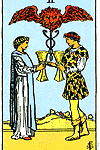 March 1st is a busy day for you, Aquarius, especially having to do with finances and contracts. You need to be patient and not expect events to occur as quickly as you'd like. You can learn new things, gather useful facts, make connections, and communicate effectively. This is an excellent time to think outside the box. If you try using new approaches to long-standing problems, you may find that these fresh tactics work. You are even more charming that usual between March 5th and April 5th. You attract good things and people who can be helpful to you. Who knows? You may even find a new love. After March 6th your creativity becomes inspired. Go to plays, concerts, museums, and movies. You gain fresh perspectives and insights through discussions with wise and experienced people throughout the month. Listen, watch, and hear!
PISCES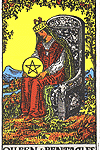 The New Moon in Pisces on March 1st can help your creative life as well as your relationship with children, lovers, and other dear people. You may refine your appearance and approach to life. Events may require you to re-do some work or to renegotiate an agreement. On or around the 13th you finally get what you deserve. The March 16th Full Moon in Virgo will affect all kinds of relationships. The emphasis will be on doing your duty and keeping your commitments. If you need to extricate yourself from a bad situation, you can do so now. Pay attention to your instincts and intuition, especially during the second half of March. Your subconscious will be sending out messages. The March 30th New Moon in Aries is a good time to straighten out finances, pay bills, and plan a budget.
©2014 Visions of Reality. All Rights Reserved.